1/9 Morning Buzz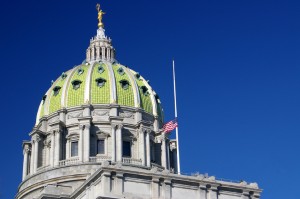 Mike Waugh to resign, Leslie Richards considers PA-06 and Alan Grayson will hold a fundraiser for Daylin Leach. Good morning politicos, here's the buzz.
Sources: Waugh to Resign, Triggering Special Election: State Sen. Mike Waugh of York will resign this week. The resulting special election would give party officials an edge in choosing his replacement.
Montco Commish Richards Considers PA-6 Bid: MontCo Commissioner seriously considering run for PA-6, after DCCC and Emily's List approach her.
Attention Candidates: PA Has New Nominating Petitions: The Pa. Department of State is introducing new forms state and federal candidates need to get on the ballot. They will be indexed using QR codes.
Keystone Progress to Begin Endorsing Candidates in 2014 Races: The progressive organization will back candidates for the first time this year.
PA-13: Alan Grayson Fundraises For Leach: Progressive Florida Congressman throws support behind Leach, who faces tough competition in Pennsylvania's 13th congressional district.
Legislative Elections Update:
HD-20: Self-declared libertarian Republican Tom Fodi announced his candidacy for this seat held by Rep. Adam Ravenstahl (D-Allegheny) since 2010.
As a lifelong, native son of the North Side of Pittsburgh, I have spent the vast majority of my life investing my resources, time, and energy in this region and look forward to the opportunity to represent it in Harrisburg," Fodi said. "I hope to demonstrate to the voters my passion for serving the district and being held accountable as their representative – rather than a career politician working for Harrisburg lobbyists."
Statewide
StateImpactPA: Lawmaker calls for hearing to address rail safety in Pa.
Philadelphia
Inquirer: Corbett still firmly against medical marijuana
Inquirer: Hughes calls for rejection of Corbett's insurance plan
Inquirer: New ethics rules for Pa. Supreme Court
Inquirer: Philadelphia Archdiocese prolongs its own suffering
Daily News: On 'War of Poverty' anniversary, jobless Philly contingent heads to D.C.
Philly.com: Harrah's Philadelphia Casino and Racetrack fined $90K for gambling violations by PGCB
Philly.com: Vice President Joe Biden donates $50K to Pennsylvania women's abuse advocacy groups
Baer Growls: Corbett's Canadian farmergate
SEPA
Courier-Times: Bucks could spend $14M on women's correctional center
Courier-Times: Montco Commissioner Leslie Richards courted for 6th District
Courier-Times: Neshaminy School Board seeks to fill Ritchie Webb's seat
Pottstown Mercury: 'Unforeseen circumstances' scuttle new Pottstown tax collector
Pottstown Mercury: Amity board appoints 10 to new traffic impact advisory committee
Pittsburgh
Early Returns: LaHood joins leadership of Rendell's infrastructure advocacy group
KDKA: Tom Wolf Brings Business Skills To Run For Pa. Governor
Post-Gazette: Pennsylvania Turnpike Commission names new inspector general
Post-Gazette: IMG Midstream plans small plants to generate electricity from gas
Tribune Review: House bill would let taxpayers see details of teachers' contracts
Tribune Review: Son of U.S. attorney to work with Pitt pro-marijuana group
Tribune Review: Peduto to fill public safety jobs
Tribune Review: New Pittsburgh City Council president hasn't won favor of all
Southwest
Altoona Mirror: State holds Medicaid hearing
Beaver County Times: DEP launches interactive oil and gas well mapping tool
AP: DOJ ends investigation at Pittsburgh prison
NEPA
News Item: Shamokin police haven't been paid for five holidays
Standard Speaker: Hazle zoning board OKs gun range
Times Tribune: Senate leaders debate keno revenue use
Times Leader: Several eye run for Mundy's seat

South Central
Carlisle Sentinel: Decorated war veteran and former Pa. adjutant general dies at 93.
Harrisburg Patriot News: Harrisburg Mayor appoints write-in challenger as Director of Public Works and discusses city finances.
Today's the Day Harrisburg: Updates from the capitol.
York Daily Record: York County commissioners revisiting $27 million emergency radio system project.
Lehigh Valley
Morning Call: Business and justice don't mix as the state Supreme Court changes 40 year old ethical standards.
Reading Eagle: With Pa.'s 5th legislative district moving towards Berks County, Frederick Sheeler seeks Democratic nomination.
Reading Eagle: Pittsburgh Mayor Bill Peduto plans to keep the city's economy under state oversight.
Reading Eagle: Former auditor general Jack Wagner is running out of time to announce bid for governor.
Reading Eagle: Former Republican congressmen see 2014 as chance for redemption.
North by Northwest
Erie Times-News: Due to age and diminished mental capacity, former Sen. Raphael Musto is deemed unfit to stand trial.
Erie Times-News: Millcreek auditor set supervisors' salaries.
Erie Times-News: Witherspoon in line Erie City Council presidency.
Opinion
Inquirer: Inquirer Editorial: Schoolchildren are the victims
Daily News: DN Editorial: Faith & finance
Observer-Reporter: With poverty, the war goes on
Times Tribune: State should boost wage to keep peace
Harrisburg Patriot News: The uneasy forced marriage between the Tea Party and big business: Lowman S. Henry.

Blogs
Commonwealth Foundation: PODCAST: StudentsFirst on Education Reform
Commonwealth Foundation: War on Poverty: 50 Years of Failing People
Keystone Politics: Sorry Corbett, Agriculture is Not Even Close to PA's "Number One Industry"
Keystone Politics: #PAGov: Democrats Don't Have to Be Scared of the Marijuana Issue Anymore
Lehigh Valley Ramblings: Farmland Preservation Board Recognizes Ron Angle
Lehigh Valley Ramblings: Scheller to Waive Her Pay in Lehigh
Lehigh Valley Ramblings: Spadoni Hangs On in Bethlehem
Liberty City Press: Stars Align in Philly to Help Teen Girls