Gov Candidates Woo State Committee Delegates in Forum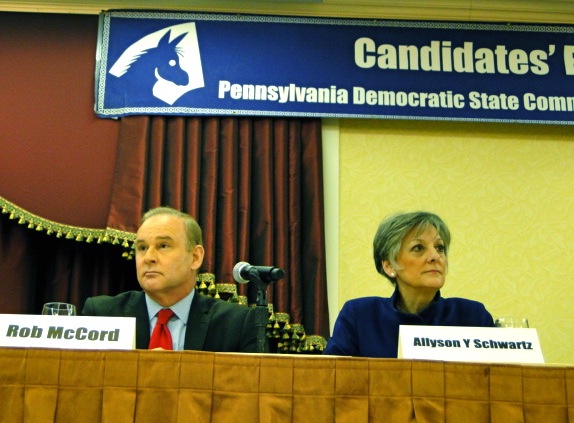 All of the Democratic candidates for governor participated in a forum this evening at the PA Dems State Committee Winter Meeting.
Jobs and education were the most popular topics of the night, and the last question to the candidates asked which their most important issue was.
State Treasurer Rob McCord got the most out of this question by responding, "investment," and spun education, jobs and infrastructure into one answer.
Former Revenue Secretary Tom Wolf, Lebanon County Commissioner Jo Ellen Litz, Rep. Allyson Schwartz, former DEP Secretaries Katie McGinty and John Hanger each picked jobs, but also mentioned education.
Minister Max Myers was alone in choosing the environment.
Given that the forum was hosted by the Women's Caucus, Schwartz played strongly to the audience.
"Make sure that women are at the table and everywhere in this administration," she said. "No better way to do that than to make sure it's a woman governor."
Each of the candidates agreed on the labeling of GMOs on food, with the consensus that consumers should know what they're buying.
There was also much discussion about voting access and each of the candidates were in favor of expanding it.
"There are mechanical things we can do but the most important thing we can do is get people to believe in our system and restore the trust we've lost," Wolf responded to the question of voting access.
McCord also responded strongly in this section.
"This is not primarily a technical issue, it's a moral mandate," he said. "We have a governor who did the wrong thing knowingly, and he spent millions to suppress the vote. They knew what they were doing, it was wrong. We need a nominee who can fire people up."
Hanger responded to McCord saying that he was the candidate that could bring the most voters to the polls in November and had the policies that would bring young people, women and minorities to the voting booths.
He talked specifically about his plans to make online charter schools accountable, legalize and tax marijuana and referred attendees to his website to see the details of his jobs plan.
McGinty turned her DEP experience into a jobs response, saying "For 25 years I've fought to show that you can grow jobs when you protect the government."
Wolf's business experience resonated well with the audience when he talked about the nuance of low interest rates and his company.
"Actually, I've created jobs in places like York," he quipped.
The candidates all agreed that non-discrimination policies should be extended to LGBT people in the state, with candidates saying that Pennsylvania needs to be welcoming to all individuals.
Schwartz had a notable answer here.
"If we want to be a great state, we need to welcome and respect everyone," Schwartz said summarizing what most of the candidates responded. "I would stand up for marriage equality too."
"This issue is close to my heart because when I was born, the kind of marriage that I have wasn't legal," McCord said. "These issues are pretty straightforward, do the right thing. Make illegal any bigoted behavior."
Following the reception, many of the candidates are hosting receptions.