PAC Unveils Anti-Murphy Ad (Watch Video)
The Campaign for Primary Accountability has produced its ad against Rep. Tim Murphy. The Super PAC, which targets incumbents from both parties, blasts the Allegheny County Congressman for supporting earmarks, spending, and more.
"Rock the boat. Vote in the April 24th Republican primary," says a narrator against a picture of a rusted ocean liner. "It's time to end Murphy's cruise."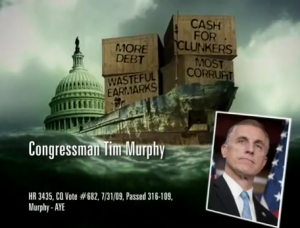 PoliticsPA reported last week that the PAC was planning to send around $200,000 against Murphy, in a combination of television ads, mailers, robocalls and more. The group's involvement has already elevated the profile of the race; the Washington Post named the 18th district the top incumbent v. challenger primary in the country.
In part the ranking was based on the story of Rep. Jean Schmidt, an Ohio Republican the CfPA helped to defeat with an almost identical ad in March.
The ad corresponds with a website as well.
Update: Murphy campaign manager James Genovese hit back against the PAC and emphasized the Congressman's local support.
"It's unfortunate this Superpac, working to elect liberals like Dennis Kucinich, is now misleading voters on Murphy's record of fighting against the radical policies of the Obama Administration.  National Right to Life, the NRA, the US Chamber, over 40 local endorsements and most importantly voters throughout Southwestern Pennsylvania are part of Team Murphy and we appreciate all their support. We trust the voters will continue supporting the Congressman's efforts to repeal Obamacare, save the 911th, keep the EPA from shutting down Southwestern PA energy, and grow jobs in our local manufacturing base."