By Keegan Gibson and John McDonald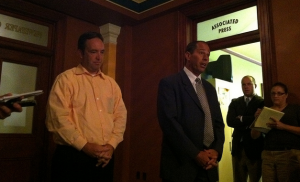 Rick Santorum is rallying support on the home front today.
Fifteen members of the Pennsylvania Senate, including most of its leadership, today announced their endorsement for the former U.S. Senator's presidential bid.
Senate Pro Tempore Joe Scarnati and Senate Appropriations Chairman Jake Corman spoke with reporters in the Capitol press room.
"The American Dream in my eyes is something that I was able to grow up in – that you work hard and you'll be successful.  And I have to tell you, I'm very concerned that in our national arena we're losing that American dream.  It's going down the drain," Scarnati said.  "Unless we put leaders in place that understand it and can restore some faith in our country, we're going to lose that dream.  I think Rick Santorum is a guy that can do that."
"My relationship with Senator Santorum goes back to 1977, maybe a few years longer. He's someone I've known almost all my life," said Corman. "The Senator has a track record of dealing with tough issues."
He listed welfare reform and the 1990s debate of the Balance Budget Amendment as examples of Santorum's acumen.
Santorum worked for Corman's father when he served in the PA Senate. Corman the younger, in turn, worked as Santorum's State Director for Central PA from 1994 to 1998.
The announcement came on the heels of Santorum's three-day fundraising effort in PA and his fourth-place finish in the influential Ames Straw Poll.
"I am honored to have the support of this esteemed group of Pennsylvania leaders, from Tea Party legislators to Party Leadership, who know firsthand that our campaign has the record of electoral and legislative success in Pennsylvania and is best positioned to defeat President Obama," said Santorum in a statement.
"I have worked with these fine people and they know my record of consistent conservative results.  Their support undergirds what I've been saying on the trail – that I have the record of results to win the GOP nomination and defeat President Obama in November 2012."
Both Senators conceded that their endorsement – which reflects a relatively low political risk for them – would not provide much of a boost to Santorum's primary campaign. However, they pledged their fundraising support.
Since announcing the formation of his presidential exploratory committee in April, Santorum has raised at least $164,565 from Pennsylvania-based individuals and committees, according to publicly available Federal Elections Commission disclosure data.
Questioned about Santorum's electability, Corman echoed the campaign narrative that candidates have rapidly rises and fallen in the polls, and what matters most of all is performance in the early primaries.
"It's way to early to even care about polls. The primary is so strange – it's state by state, some of them are caucuses, some of them are popular vote. So, to say the he's a long shot – he's an underdog, sure – but I dont know that I can pick any Republican nominee out and say that's the person."
Scarnati had the best zinger of the day when asked about President Obama's upcoming jobs speech. He asked reporters if they had seen the film, The King's Speech.
"The King, he has a terrible stammering. He stutters, and he goes on to deliver probably one of the most critical, important speeches before World War II to Great Britain and the world. The reason I bring that up is, we got a guy that's giving great speeches, but he's not uniting anybody."
In addition to Scarnati and Corman, the full list of Pennsylvania endorsements unveiled Tuesday includes the list below. Corman said that the pair was continuing to recruit additional endorsements from some members they said they haven't yet spoken to about an endorsement.
State Senate Majority Whip Pat Browne
State Senate Republican Caucus Chairman Mike Waugh
State Senate Republican Caucus Secretary Bob Robbins
Senator Richard Alloway
Senator Dave Argall
Senator John Eichelberger
Senator Mike Folmer
Senator Bob Mensch
Senator John Pippy
Senator Robert Tomlinson
Senator Kim Ward
Senator Don White
Senator Gene Yaw
Santorum's camp also announced on Tuesday that the Pennsylvania Manufacturing Association endorsed the former U.S. Senator's jobs plan, which would eliminate the current 35 percent corporate tax for domestic manufacturers and repeal the Patient Protection and Affordable Care Act, the Sarbes-Oxley Act governing corporate accounting and accountability, and the Dodd-Frank Wall Street Reform and Consumer Protection Act.
"Senator Santorum clearly understands this value manufacturing has on our overall economy, and his plan is consistent with his strong, unwavering record in support of pro-growth public policy throughout his career," said PMA President and CEO Fred Anton III.