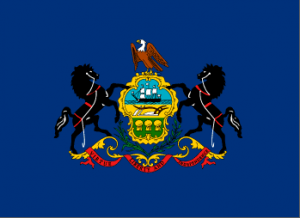 Wolf launches a new ad the day after the primary, Nothstein wins the GOP nod in the 7th Congressional district, and it cost about $26 per vote in the GOP Gubernatorial primary.  Good morning politicos, here's the Playbook!
Wolf Launches New Ad Touting Reforms the Day After Primary: Governor Tom Wolf's re-election campaign launched a new ad touting his push to "change the way business was done in Harrisburg."
Olympic Gold Medalist Wins PA-7 Republican Primary: Lehigh County Commissioner and Olympic gold medalist Marty Nothstein won a narrow victory in the 7th Congressional district Republican primary.
City & State: PA GOP guv primary cost over $19 million – about $26 per vote: The final tally will be even higher – closer to $20 million – as the final campaign reporting rolls in. Wagner reported some $324,000 in last-minute contributions, Ellsworth $247,000, and Mango $94,000, although expenses during these final days before the primary have yet to be itemized. But assuming that the candidates funneled those last-minute contributions into campaign costs, the final cost per vote clocked in at a bit more than $26 a pop – The Pennsylvania Department of State currently reported about 731,000 votes cast in the Republican primary.
Statewide
State House Sound Bites: Wolf, Fetterman make first appearance as running-mates
State House Sound Bites: DePasquale pushes for more child welfare funding
State House Sound Bites: Wagner wins GOP primary, immediately trades barbs with Wolf
StateImpact: Curious about an energy or environmental issue? Ask StateImpact Pennsylvania
StateImpact: White House feared PR 'nightmare' over agency's stricter chemical limits, emails show
City & State: Highlights from the 2018 Pennsylvania Primary
Capitolwire: PA medical marijuana research program coming into spotlight.
Philadelphia
Inquirer: Pa. governor's race gets off to a negative start
Inquirer: Few saw Lou Barletta as a Senate candidate. Then Donald Trump happened
Inquirer: The biggest winners and losers in Pennsylvania's 2018 primary election
Inquirer: Democrat Helen Tai wins special state House election in Bucks, gains a seat for her party
Inquirer: Colin Powell honored in Philadelphia for international work
Philly Mag: How Close Is Pennsylvania to Implementing Legalized Sports Gambling?
Philly Mag: 2018 Pa. Primary Results: Women Surge Toward Congress
WHYY: More funding sought for Pa. child welfare programs
WHYY: Pa. bill banning abortions for Down syndrome divides special needs community
SEPA
Pottstown Mercury: Pennsylvania Gov. Wolf gets to know imposing new ticket mate Fetterman
Daily Local: Numbers tell story in Pennsylvania 6th Congressional District
Bucks County Courier Times: GOP makes picks for goveror, Senate; women crash house races
Delco Times: 'Year of the Woman' hits home in Delco
Pittsburgh
Tribune Review: Attacks begin in governor's race day after primary election
Tribune Review: Gov. Tom Wolf gets to know John Fetterman
Tribune Review: 5 takeaways from Tuesday's primary elections
Tribune Review: Pennsylvania fields historic slate of women congressional candidates
WTAE: Gov. Tom Wolf and new running mate John Fetterman meet to discuss future
Post-Gazette: Governor's race begins with attacks from both candidates
Post-Gazette: What happened in the 14th? Voters unwilling to give Saccone 2nd chance
Post-Gazette: Pittsburgh police cite Rep. Wheatley for harassment in flap with campaign worker
Post-Gazette: Pittsburgh City Paper fires editor after disagreement on coverage of state legislator
Post-Gazette: Vulakovich: Gas tax vote to blame for state Senate primary defeat
WESA: After Unprecedented Primary Win, Fetterman And Wolf Join Forces
WESA: What A Win For Democratic Socialists Means For Candidates In Harrisburg
WESA: Democrat Bibiana Boerio Turns To General Election In GOP-Friendly 14th District
KDKA: Braddock's Fetterman Ready To Launch General Election Campaign With Gov. Wolf
KDKA: Pennsylvania's All-Male House Delegation Will Be No More Next Year
Southwest
Beaver County Times: Bernstine, Mitko say they won Democratic write-in state House battles
Beaver County Times: Rothfus says he'll ride record, experience into showdown with Lamb
Beaver County Times: Potter's cracker plant at center of Shell's return to plastics
Altoona Mirror: Kaneshiki loses GOP committee post
NEPA
Times Leader: It took 10 years, but Meuser finally gets another chance at Congress
Times Leader: Barletta comes out swinging after winning GOP nomination
Times Leader: Record low number of votes in county for Tuesday's primary
Times-Tribune: In Lackawanna County, most voters skip primary
Standard-Speaker: Former state Cabinet members to vie for U.S. House seat
South Central
York Daily Record: Scott Wagner wins Republican nomination for Pa. governor, sets up York County showdown
York Daily Record: How Scott Wagner went from Republican outsider to party's nominee for Pa. governor
York Daily Record: It's official: 2 York County millionaires will face off for governor on Election Day
York Daily Record: Pa. Gov. Tom Wolf, lieutenant governor nominee John Fetterman speak to the press
York Daily Record: Wolf and Fetterman meet for lunch and cause a stir at the Manchester Cafe
Patriot News: In the race for governor, what do the running mates bring to the table?
Patriot News: Robert Casey v. Lou Barletta starts now: How the race shapes up, Opening Day edition
Lehigh Valley
Morning Call: With six women winning primaries, Pennsylvania poised to elect female to Congress
Morning Call: From power outages to historic defeats: Five unusual things about Tuesday's election
Morning Call: York County has the political ties that bind Pennsylvania's race for governor
WFMZ: The day after: 9th District candidates map out campaigns
WFMZ: Gov. Wolf announces nearly $1M in grants to promote Pa. wines
Express Times: Wolf spends time with new ticket mate picked by party voters
North by Northwest
WJET: Scott Wagner will face Governor Tom Wolf this November, winning 44% of the vote
Centre Daily Times: Penn State picked to study medical marijuana
Centre Daily Times: Results are in for the 12th District Democratic primary. How close was the vote?
Opinion
Inquirer: Pennsylvania voters face a governor's race with starkly different candidates | John Baer
Inquirer: Supreme Court ruling on sports betting is a loser | Editorial
Inquirer: 'The women have arrived' with Pa. congressional primary wins, as the old boys get a wake-up call | Maria Panaritis
Tribune Review: Trib editorial: Geography, not philosophy, guided Pennsylvania primary
Patriot News: In hard-fought Congressional races, Pa. appears set to reclaim Keystone status | Analysis
Patriot News: The problems in the Farm Bill go well beyond sugar | Editorial
LNP: Countering two viral threats — one from the mumps, the other from those who spread inaccurate information about vaccination