By Jamie Brackman, Contributing Writer
Senator Anthony Williams (D-Phila) is trying new tactic to encourage public participation in government. His press release, which shared its title with this story, announced a contest wherein citizens can pitch their own ideas for laws.
Williams has agreed to sponsor the winning legislation in the PA Senate, and says that the contest winner may be able to testify on behalf of their bill in a formal hearing.
"Community involvement is one of the pillars of democracy." Williams said. "Some of the nation's most significant legislation like Megan's Law has come from the ideas of constituents."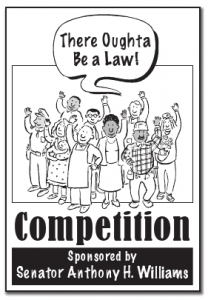 The competition was modeled after a similar contest held by California State Senator Joe Simitian.
"When we celebrate our freedom and independence, what better way is there to salute our founding fathers than to provide a way for average citizens to participate directly in the legislative process," said Williams. "Democracy can only be preserved by the active participation of our citizens. This contest will encourage them to do that."
Applicants can enter the contest at Williams' website.