Republicans face an uphill challenge in their effort to flip the state House seat of Pa.'s new Auditor General Eugene DePasquale. But they've chosen the man who will give it a shot.
Bryan Tate, 45, is the Vice President of Philanthropy at the York County Community Foundation and former campaign and legislative staffer.
He lives in the city of York and was the only candidate to pursue his party's nomination, according to York GOP Chair Bob Wilson.
Prior to joining YCCF, Tate worked as Chief of Staff to Todd Platts in the state House and the U.S. House, as well as his campaign manager for his first congressional run in 2000.
"I fully suspect with Mr. Tate's experience as an active partner in the development and promotion of York and all of its assets as well as being the former Chief of Staff to former Congressman Todd Platts, that he will obtain the unanimous support of the Republican  Committee members who represent the 95th State House District and will become our nominee to be placed on the ballot for the upcoming Special Election," Wilson said.
York GOP committee members who reside in the 95th district will vote to select a nominee, whose name will be forwarded to the state GOP for approval.
The County party is hosting a forum with Tate on Jan. 24 at the Crispus Attucks Center.
In all likelihood he'll end up facing Democrat Kevin Schreiber, 32. Like Tate, Schreiber was the only candidate to pursue his party's process for seeking the nomination.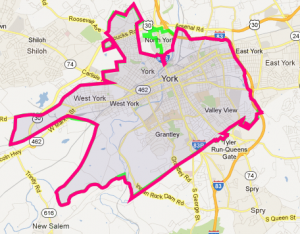 The 95th district has been in Democratic hands for nearly three decades; the party enjoys a 29 point edge in voter registration (57 percent to 28 percent). Additionally, it's one of the least-altered districts under the proposed redistricting plan. That said, Republicans tend to perform better in low turnout special elections.
House Speaker Sam Smith has 10 days to call a special election – most anticipate a date in May* – to replace DePasquale. After 3 terms, the Democrat won election to the office of Auditor General.
*The original version of this story said March. It will probably be May 21, the same as the primary election.