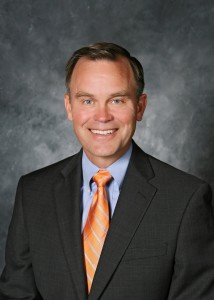 Governor Corbett confirmed yesterday what the Philadelphia Inquirer reported last week — Secretary of Education Ron Tomalis is on his way out.
Tomalis will leave his post on May 31 to become Special Adviser to the Governor on Higher Education, per a press release from the governor's office, making the same salary that he did in the cabinet. Tomalis has held the position since January 2011.
"Secretary Tomalis has worked hard to make Pennsylvania's public education system benefit all of Pennsylvania's students to ensure their success beyond graduation,'' Corbett said.
Dr. William Harner, currently the superintendent of Cumberland Valley School District in Mechanicsburg, will take over for Tomalis pending Senate approval. Harner spent 20 years in the military and has garnered an impressive resume in education since then. He has served as a middle school principal, a superintendent and as the deputy chief executive officer of the School District of Philadelphia. Harner was also an administrator at a New Orleans school district designed to deal with underperforming schools, overseeing nine school buildings post-Katrina.
"From his days at West Point to his service at Cumberland Valley, Dr. Harner has shown himself as an effective problem solver able to unite all sides in a common goal of educational excellence,'' Corbett said. "Those who have worked with him describe Dr. Harner as an accomplished student, born manager and decisive leader who can carry out our agenda of educational excellence in the face of any challenge."
Harner attended and taught at West Point Academy and retired with the rank of lieutenant colonel.
"I am truly honored that Governor Corbett has asked me to serve as the next Secretary of Education," Harner said. "I look forward to working closely with the governor and members of the General Assembly as we strive to provide all Pennsylvania students with an exceptional education."
Pennsylvania Democratic Party Chairman Jim Burn wasn't so bullish on the appointment, however. Burn is just one of many democrats who are using the switch to attack the Governor's oft-chided education record.
"Gov. Corbett's budgets have ravaged Pennsylvania's schools, forcing school districts to lay off teachers and cut vital programs and colleges to raise tuition," Burn said in a statement after the announcement. "Gov. Corbett clearly does not prioritize education and his policies have hurt Pennsylvania. Gov. Corbett does not need new staffers, he needs new priorities and his recent budgets and policies have made it clear that his priorities have not changed. Gov. Corbett is still helping his donors at the expense of the middle class and Pennsylvania's students."
Corbett's 2014 opponents are getting their shots in, too. Kathleen McGinty, who is seeking the Democratic nomination to take on Corbett in the 2014 governor's race, questions the decision to keep Tomalis on at his six-figure salary.
"Gov. Tom Corbett drove the state from 7th to 49th in job creation and wants to push another 400 state employees out of their jobs with his latest budget proposal," McGinty said. "But he surely fights for his friends! A cushy six-figure, unnecessary job for a pal whose one major accomplishment has been to slash nearly one billion dollars from state funding for education? We can't afford Gov. Corbett's pal and we can no longer afford a governor whose priorities are not with Pennsylvania's kids and hardworking families."
Harner will take a paycut and bring in $139,931 according to the Patriot-News, down from $156,000 at his current superintendent job.