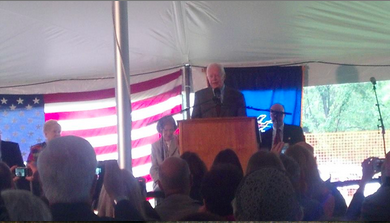 Wyoming — A little rain didn't keep hundreds of people away from the Wyoming Monument Tuesday afternoon to see Jimmy Carter, nor could it dampen the spirits of the large crowd huddled under the tent listening to the former president speak.
The President and Mrs. Carter visited the NEPA area Tuesday to give a public speech at the site of the Wyoming Massacre in the Revolutionary War and to participate in a $535-a-plate fundraiser dinner at the historic Stegmaier Mansion in Wilkes-Barre to benefit the Plants (Ga.) Better Hometown Program.
The Carters were introduced by event host Larry Cook as "true champions of human rights, peace and freedom."
Most of Carter's speech focused around the Nobel Peace Prize winner's recent resume, which includes dozens of trips to impoverished countries to help fight disease, run elections and improve relations with America.
"My prayer for the future is that America will continue to improve itself, continue to grow and strengthen ability and influence around the world, and to have moral values of which we can be proud," Carter said. "America should always promote human rights and freedom around the world."
Carter is the third United States president to visit the Wyoming Monument — the first in 108 years — joining Rutherford B. Hayes and Teddy Roosevelt with that distinction. After his speech, he was presented a key to the city by Wyoming mayor Bob Boyer.
"Pennsylvanians are good people, very hospitable and friendly," Carter said of the state that he claims to have visited 37 times (he has been out of office 32 years).
U.S. Rep. Matt Cartwright was in attendance, although he did not speak. Senator Bob Casey did not attend, but he released a statement on the former president visiting his state soon after the speech.
"I join the entire Commonwealth in welcoming President Carter to Pennsylvania," Casey said. "He is the third President of the United States to visit the Wyoming Monument – a tribute to those who lost their lives in the pursuit of freedom. President Carter is a living testament to public service and we are honored by his visit."