By Keegan Gibson, Managing Editor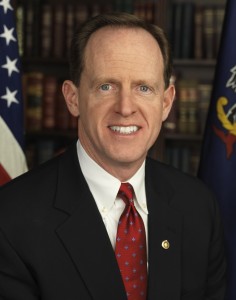 Pat Toomey has a booster in National Review columnist Jim Geraghty, who thinks the freshman Senator distinguished himself on the supercommittee and would be "a boon to any ticket — especially a Romney one." The columnist talked to several national GOP strategists who feel the same way.
Geraghty writes that whoever the GOP nominee, he or she will need a running mate who, "has impeccable free-market credentials, is admired by the tea partiers, and preferably comes from a swing state. A figure who would face little learning curve if thrust into the presidency and is experienced enough with how the federal government works to be a heartbeat away from the Oval Office, but hasn't become a stale creature of official Washington. Someone who built his reputation as a staunch defender of conservative principles and by making the hard choices, but has also demonstrated a certain flexibility and willingness to compromise to achieve what he deems the nation's highest priorities."
For his part, Toomey dismisses any speculation. "I really don't see that happening," he told NR. "I have to catch up with the work I have to do on my ordinary committees because I've been so engrossed on the supercommittee."
It's that compromise – a plan to lower taxes over all, but raise revenue by closing loopholes and deductions – that elevated Toomey to national prominence (his national TV tour continued over the weekend). According to most observers, Toomey's proposal was the closest the 12-member group came to a deal.
As to whose candidacy he would most benefit, the writer argues that Toomey would bolster Mitt Romney or Newt Gingrich by inoculating them from conservative ire.
Toomey is no stranger to VP-picking. In 2008, he penned an op-ed in the Wall Street Journal advocating potential running mates for John McCain.
"To win in November, Mr. McCain needs a strong economically conservative message. Picking a vice presidential nominee who can credibly champion that message is the first and perhaps best indicator he can give voters how he will govern if he makes it to the Oval Office," Toomey wrote.
His first choice? Then-South Carolina Governor Mark Sanford (before his Argentina expedition). Toomey also named South Carolina Senator Jim DeMint, Indiana Congressman Mike Pence, former Texas Senator Phil Gramm, and Forbes Inc. CEO Steve Forbes as possible picks.
Geraghty has been a major Toomey booster in recent weeks, most notably defending the Senator against conservative criticism of his supercommittee compromise.
The columnist's enthusiam aside, the most likely scenario for Toomey would probably be a Rick Perry campaign. The Texas Governor will need a northern VP who can balance his informal style and perceived weaknesses in policy debates.