By Tara Jerry and Ben Griffiths, Contributing Writers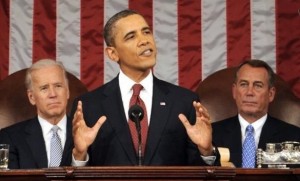 The state of political spin is strong. Elected officials and interest groups from across the state offered their reactions to Barack Obama's State of the Union address.
A statement from Sen. Bob Casey in response to the State of the Union focused on issues affecting Pennsylvania, saying, "I also look forward to more attention on the critical issue of manufacturing.  Pa. manufacturers have been hit hard by unfair trade practices by countries like China.  The Senate has passed legislation to crack down on China's currency manipulation.  The House must follow suite and the Administration must do more to use its existing powers to level the playing field of U.S. workers."
U.S. Rep. Mark Critz agreed with many of the President's messages, saying, "Let's work together to make sure that they remain the best by leveling the playing field, promoting fair trade, ending foreign currency manipulation, tapping our domestic energy resources, and enacting commonsense solutions that create American jobs and strengthen American families."
His competitor in the Democratic primary for the new 12th congressional district, U.S. Rep. Jason Altmire, said in a statement, "Tonight, the president outlined a clear path forward to restore our economy and protect working families.  Western Pennsylvania is key to this plan.  By focusing on energy, our region's rich energy resources can help our regional job creation efforts while boosting our local economy."
Congressman Chaka Fattah added, "Tonight the President presented a plan to secure the American Dream and pave the way for a promising future for all.  He has called on Congress to put aside partisan bickering and get to work supporting dynamic programs that strategically invest in American global competitiveness."
Using a theme similar to one the President mentioned during his speech, U.S. Rep. Allyson Schwartz said, "I urge my Republican colleagues to work with President Obama and Democrats to find common ground to meet our obligations as a nation and make the right investments for our future."  Obama also called on bipartisan work from Congress, and threatened to sign executive orders if Congress refused to act.
Some Republicans like Rep. Joe Pitts (PA-16), also expressed interest in bipartisanship unity.
"Some of the big decisions are going to have to be determined at the polls this fall, but the election is 10 months off and we shouldn't be sitting on our hands until then. I'm going to be working with Democrats and Republicans to pass good legislation that helps create jobs. I hope the campaign will not overshadow our honest efforts to get Washington, and the nation, working again."
Jim Burn, Chairman of the Pennsylvania Democratic Party, released a statement saying, "Pennsylvanians know that we need to create jobs by relying on American manufacturing and American workers, and we are encouraged that President Obama intends to make American manufacturing and workers a continued priority."
Although the President spoke at length about the need for the United States to stop depending on foreign oil and develop every source American energy, he made no mention of his rejection of the proposed Keystone pipeline last week. Congressman Tim Murphy (PA-18) took notice.
"Southwestern Pennsylvania families want less talk and more action to grow jobs and get our economy moving. Yes, we need more US energy production and a strong domestic manufacturing base. We also need to cut spending and stop job-crushing regulations to help our economy get back on track.
Yet the goals laid out by the President tonight are the very things his Administration is actively working to stop. If the President truly wanted to increase domestic energy production, he wouldn't be blocking the Keystone Pipeline."
Rep. Glen Thompson of the 5th congressional district, agreed with Murphy's sentiment.
"While his [Obama's] acknowledgment that we need increased domestic production of oil and natural gas, on and off shore, was quite promising, to date the Administration has worked to counter attempts at making America's energy future more secure. The President's denial of the Keystone XL pipeline, which has the potential to create thousands of jobs and add to our energy security, is the latest example of this White House's failure to understand our nation's energy needs and potential."
References to natural gas and Marcellus Shale, a strong local interest, were abundant during the President's comments on energy policy.  Marcellus Shale Coalition president Kathryn Klaber issued a statement saying, "We are encouraged that President Obama recognizes the tremendous energy security, environmental, and economic benefits associated with job-creating American shale gas development fueled overwhelmingly through private investment on privately-owned lands."
Rep. Patrick Meehan (R-7) offered a more optimistic view, saying, "I take the President at his word that he wants to work together. We heard some ideas tonight that we can begin to work on."
Other PA conservatives like Sen. Pat Toomey were unmoved by the President's message of trying to put partisan bickering aside.
"The president did suggest his willingness to work with Congress on a few pro-economic growth policies, and I will always welcome working with the president and anyone who wants to pursue ideas that will grow the economy and create jobs. However, the majority of the president's speech was just business as usual for this administration and a retread of ideas that have already failed."
Congressmen Mike Fitzpatrick (R-8) also offered an optimistic response, saying, "I join the President this evening in his call for cooperation and pursuit of common sense solutions to the challenges facing our nation. Several of the proposals the President discussed in his State of the Union address have bipartisan support, and I remain hopeful that we are able to work together to provide relief to the American people."  He also noted that today marks 1,000 days since the Senate last passed a budget, a point Republicans have been trying to stress today.
U.S. Rep. Tom Marino expressed similar views of disappointment at the President's speech, saying, "This address was just another campaign speech, more of the same, more blame and more division."  Congressman Lou Barletta stated, "The president's speech does nothing to change the fact that his policies have not worked."  However, he added, "With that being said, I hope we can work together to solve the issues we face.  I think that's a goal that all Americans share. I hope we can keep that in mind this year."
Presidential hopeful and former Pennsylvania Senator Rick Santorum had harsh words for the President's speech, calling it "the kick-off of his re-election campaign."
"My plan is diametrically opposed to that of the President's, added Santorum. "Barack Obama speaks of raising taxes and imposing barriers to growth, my plan would eliminate the corporate taxes on manufacturers, eliminate the burdensome regulations of this Administration, and free our market to explore for the energy necessary to grow our economy."
And finally, the Republican National Committee released this web video comparing the President's speech from tonight to his first two – and found some similarities.