Pennsylvania's beleaguered capital city will have a new Mayor. Bookstore owner Eric Papenfuse defeated incumbent Linda Thompson and City Controller Dan Miller, and will be the Democratic nominee.
He'll face Nevin Mindlin's, the candidate who narrowly lost to Thompson in 2009 on the GOP ticket, in November.
With 37% Papenfuse won over, Miller at 31%, Linda Thompson at 29%, and community activist Louis Butts at just 1% with 27 of 28 precincts reporting.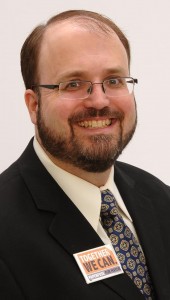 Mayor Thompson was elected after a 2009 primary upset which unseated former Mayor of 22 years, Stephen Reed. Shortly after she took office and through little of her own fault, the city fell into Act 47 receivership. This was challenged in court unsuccessfully by Miller who has made opposing receivership and the option of bankruptcy for the city a cornerstone of his campaign. Thompson who has said that she works closely with the city's receiver William Lynch and will continue to do so, has sparred publicly and in court with Miller over the city's Act 47 status.
After numerous debates across the city, which at times became boisterous over accusations from Papenfuse that Miller and Thompson were both unable to stop the cities financial difficulties while on council together, polling on May 14th showed Papenfuse and Miller in a 30-30 dead heat ahead of Thompson and Butts.
In one of the campaign's most interesting turns, Butts was discovered by Harrisburg police to have been personally defacing Papenfuse signs. He apologized but District Attorney Ed Marsico charged Butts with criminal conspiracy and criminal mischief.
Despite the attacks Papenfuse set up a large ground operation, going door-to-door, and even hosting trash pickups. With the help of a $100K contribution from city businessman Alex Hartzler's newly founded PAC, Papenfuse far outraised his rivals for a total of $179K. The PAC also spent money attacking Miller.
It all ultimately paid off for Papenfuse who won with over 2000 votes. Linda Thompson and Dan Miller were a close second and third about 300 votes behind Papenfuse.