By Keegan Gibson, Managing Editor
The Washington Post's national political blog 'The Fix' has named it's list of best political tweeters in every state, and yours truly has made the list for Pennsylvania. They like us! They really, really like us.
The list was created via user submissions over the past week or so. From Pennsylvania, it included:
@PoliticsPA
@DCMorningCall, Colby Itkowitz of the Allentown Morning Call
@CasablancaPA,Tom Corbett whistleblower extraordinaire
@tomfitzgerald, of the Philadelphia Inquirer
@PG_in_DC, Daniel Malloy of the Pittsburgh Post-Gazette
@Capitol_Ideas, John Micek of the Allentown Morning Call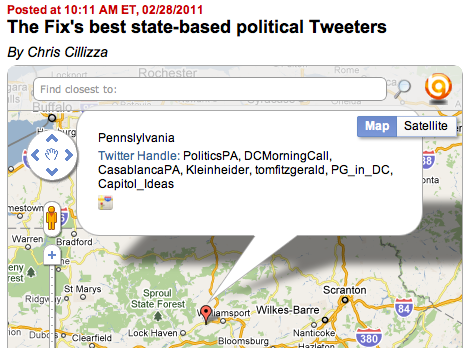 The Fix also snubbed some highly deserving tweeters including, but not limited to:
@scottdetrow, of PA Public Radio
@phillyclout, the political team of the Daily News
@SalenaZito, political and conservative opinion writer for the Pittsburgh Tribune Review
@JonDelano, political reporter for KDKA Pittsburgh
@PAIndependent, a very thorough and interesting review of state government
@GrassrootsPA, PA's version of the Drudge report – a great place to find any interesting breaking news in PA.