By Alex Irwin
PoliticsPA Contributor
Both candidates for Pennsylvania's open U.S. Senate seat tried to paint the other as an extremist in the pair's first televised debate last night at the National Constitution Center in Philadelphia.
Republican candidate Pat Toomey and Democratic candidate Joe Sestak sparred over the economy and national security and accused each other of dishonest campaign rhetoric in the hour-long debate moderated by ABC News' George Stephanopoulos and 6abc Action News' Jim Gardner.
In keeping with the issues that have defined the race for the Senate seat currently held by Arlen Specter, both candidates came out swinging on economic issues like job creation and help for small businesses.
Sestak accused Toomey of looking out for Wall Street interests ahead of the concerns of middle-class Americans.
"If it's a program for the people, he's against it. If it's a program for corporations, he's for it," Sestak said.
Toomey countered that Sestak and the current Democratic leadership in Washington have increased government size and spending as part of an "out of control agenda" that's hurt the economic recovery.
"Joe has voted for every single bailout that has come down the pike. There are no exceptions," Toomey said.
Both candidates tried to downplay comparisons to national political figures while accusing each other of toting extreme beliefs and policies. Sestak made several references to the "Bush/Toomey era" and repeatedly linked Toomey to Sarah Palin and Christine O'Donnell, the Republican candidate for the U.S. Senate in Delaware. After the debate, Sestak challenged Toomey on his recent endorsement from Palin.
"He didn't even want to mention Sarah Palin's name after calling her a spectacular governor," Sestak said.
Toomey said he welcomes endorsements and support from anyone who wants to offer it, adding that this race is between two candidates and should be focused on Pennsylvania.
"Who's he running against? He's running against me," Toomey said after the debate.
Despite the attacks lobbed from both candidates, the night was strikingly civil, especially compared to other recent debates in contested races across the country. Outside of one scuffle over whether Sestak was entitled to a 30-second rebuttal (he wasn't, but both candidates got another response anyway), the event had few interruptions or off-message moments.
Moderators put a heavy focus on national security issues ranging from Iran's nuclear program to withdrawal from Afghanistan and Pentagon spending, resulting in fewer questions on the economic recovery. The candidates reached a consensus of sorts on eradicating Al Qaeda's presence in Afghanistan and keeping the military option on the table for Iran, but clashed over trying enemy combatants in the United States. Toomey opposed trying terrorists on American soil.
"I think that is extremely irresponsible.  It's dangerous.  And it's a compromise to our security," he said.
Sestak responded that George Bush tried 200 accused terrorists in civilian court and said he left the Pentagon just 25 minutes before the 9/11 attack and wanted them tried in the U.S.
"I want them brought to justice in Washington, D.C. where they killed my friends," Sestak said.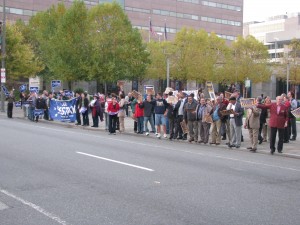 Candidates also battled over social security, healthcare, abortion, gun control and school choice.
Sestak often referenced his time as a vice-admiral in the Navy and his position as the highest ranking former military officer serving in Congress. Toomey focused on his time as a small business owner, stating he was the only candidate who created jobs. He also acknowledged his time on Wall Street.
"As you know if you watched any TV or have seen any of Joe's ads, I worked on Wall Street," Toomey joked during a question on the bailout.
The stakes of Wednesday night's debate were raised considerably in the days leading up to the event as polling numbers showed a closer race than just a week ago. A Morning Call/Muhlenberg College poll released Tuesday put Sestak ahead by three points, 44 percent to 41 percent, a large shift from the considerable lead Toomey held since the primaries.