PoliticsPA: Week's polls show large margins for GOP
By Alex Irwin
PoliticsPA Contributor
After polling results released last week indicated statewide races may be tightening slightly, this week's numbers once again showed Republicans significantly ahead in their campaigns for governor and the open U.S. Senate seat.
A Muhlenberg College/Morning Call poll released Tuesday has Republican gubernatorial candidate Tom Corbett leading Dan Onorato by 10 points, 47 percent to 37 percent. Republican Senate-hopeful Pat Toomey leads Democrat Joe Sestak by a slightly smaller margin, 46 percent to 39 percent.
Chris Borick, director of the polling institute at Muhlenberg, said any suspicions that Democrats were gaining ground last week is gone now.
"Any movement that might have been there seems to have dissipated," Borick said. "Our poll, and the others to come out most recently, have both races where they seem to have been for most of the fall. What's amazing is how consistent these polls have been."
Two polls released last Friday indicated strikingly similar leads for Republican candidates. A McClatchy-Marist survey has Toomey leading Sestak by nine points at 51 percent to 42 percent. A Rasmussen poll puts Toomey up by nine as well, ahead 49 percent to 40 percent. Both polls find Corbett boasting a 12-point lead over Onorato, 53 percent to 41 percent.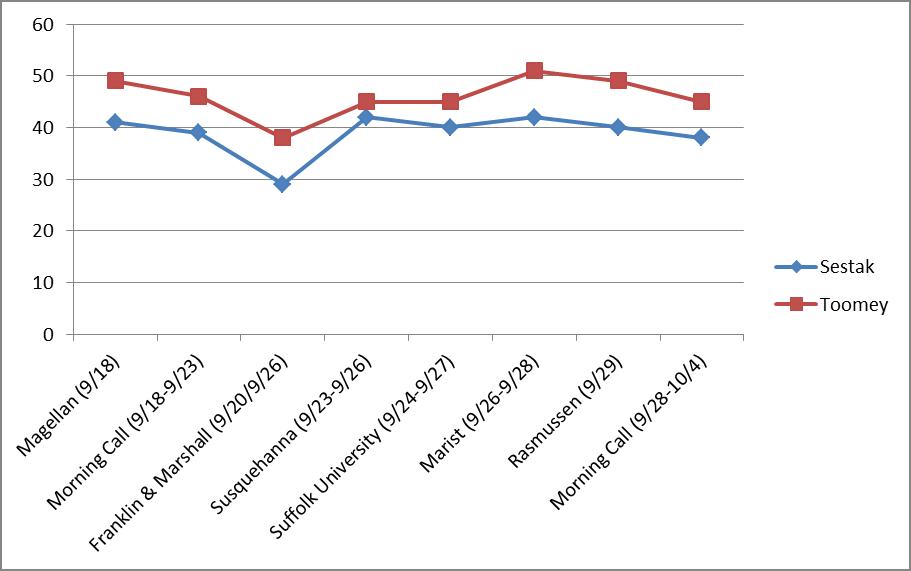 Borick said the numbers are bound to change before Election Day as undecided voters settle on a candidate, but added that doesn't necessarily mean good news for Democrats.
"You're going to see some kind of shakeup as we approach Election Day in terms of those undecided voters breaking. I think the Republicans would be happy to split the remaining undecided voters and hold on to their leads. That's a much easier position to be in than the Democrats, who have to convert undecideds at a very high rate to their camp, and maybe even flip a few more leaners or weak leaners from the Republican camp." Borick said.
Presumed voter turnout also continues to plague Democrats. Borick said the most recent polling numbers predict an even turnout among Republicans and Democrats on Election Day.
"That's amazing in a state dominated by more than a million more registered Democrats."
The barrage of ads from campaigns and outside organizations all seem to be canceling each other out. Borick said he has yet to see a spot that gives one candidate a clear advantage in the war for the airwaves, noting Sestak's ad targeting Senator Arlen Specter's party switch that helped put Sestak over the top in the spring primary. This time around, Sestak has an uphill battle, given Toomey's fundraising victories in the last three months.
"He has to keep a presence out there. He has to keep raising at least enough to stay on the air in somewhat competitive ways with Toomey," he said. "But you're simply in a better position right now if you're Pat Toomey. You have some more money, you have a lead, and you can play defense a little bit."
This week also saw new polls in several Congressional districts, including a statistical tie in the 10th district race between Democratic incumbent Chris Carney and challenger Tom Marino. Carney's three-point lead is well within the Lycoming University poll's 5.1 margin of error. Borick said the fight for the 10th district is one of the most interesting in the state, given the two candidates who are squaring off.
"Carney doesn't have a lot of the personal liabilities that are dogging Marino," Borick said. I think that's one thing that will keep that race closer than it otherwise might be in this political climate. Candidates still matter. But if in the end, all it takes is putting an 'R' next to your name, then Marino's going to win that race."
Kathy Dahlkemper, another Democratic incumbent, is in more serious trouble. She trails Republican Mike Kelly by 13 points, according to numbers released by The Hill/ANGA on Wednesday. Discontent with national politics continues to drag down her numbers, Borick said.
"If anybody's going to be vulnerable in this election, it's a first-term Democrat who voted for healthcare. She's the face of those problems."
In the Philadelphia suburbs, Republican Pat Meehan holds a slight advantage over Bryan Lentz, 49 percent to 45 percent in Joe Sestak's former district, based on polling by Monmouth University.
The Monmouth poll also asked potential voters about the Senate race. Sestak's lead on his old turf is a scant 3 percent, within the 3.8 percent margin of error — a point the Toomey campaign was happy to point out.