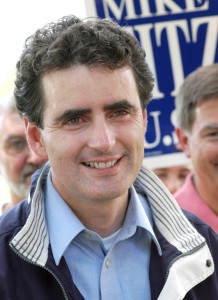 The International Trade Commission has brought Fitzpatrick's campaign finances under scrutiny after it published an estimate about legislation benefitting campaign donors in the chemical industry.
Campaign financing has been a hot topic this election as well as a main source of contention between Rep. Mike Fitzpatrick (R-Bucks) and challenger Kathy Boockvar.  During Friday's debate Fitzpatrick promoted transparency and criticized Boockvar for her party's support of federal loans for now-bankrupt Solyndra.
A recent Roll Call article detailed the specifics of the ITC estimate and potential benefits to Fitzpatrick's corporate donors who have contributed over $40,000 to his campaigns.
Labors groups including PA Workers' Voice criticized Fitzpatrick for his acceptance the funds, emailing the Roll Call article to reporters along with the graphic seen below.
Rep. Fitzpatrick and other legislators proposed a suspension of importation duties on various chemicals including Isoviolanthrone Crude Dry Presscake and 4-Sulfo-1, 8-naphthalic anhydride potassium salt.  Since these are used in production processes by chemical companies in the United States, such a suspension would result in a significant reduction of taxes paid by those companies.
There was speculation in May that these tariff bills would specifically benefit firms in Fitzpatrick's district including United Color Manufacturing Inc. in Newtown, PA whose owners have been active contributors to the Fitzpatrick campaign.  Many critics do not see a difference between tariff suspensions and traditional earmarks used to secure loyalty among a politician's constituency.
The International Trade Commission has put together an estimate for how much the proposals would cost taxpayers.  The lost revenue is equivalent to the potential monetary benefit that companies requesting a suspension of their importation duties would receive.
Fitzpatrick himself put forth 12 proposals of this nature, 11 of which would result in $5.2 million benefits to two companies in particular, both of whom are significant campaign donors.
Arkema Inc., France's largest chemical company whose U.S. headquarters is located in King of Prussia, PA was cited by the ITC as a beneficiary of three of the proposed tariff cuts.  Though Fitzpatrick's May proposals did not list Arkema specifically, three of the proposals would benefit Arkema by 3.8 million dollars over five years.
The campaign donations do not violate any laws, and other representatives on both sides of the aisle have proposed similar bills in the past.  However, the timing of the ITC estimate coming within weeks of the election does bring attention to Fitzpatrick's campaign finances.
Fitzpatrick Chief of Staff Athan Koutsiouroumbas disregards such concerns as he argues that the tariff suspension benefits to companies such as United Color Manufacturing Inc. will have a positive effect on job creation in the 8th Congressional district.
"Considering the misguided stimulus cost taxpayers $278,000 per job created," he told Roll Call. "$12,500 per job to keep over 40 people working at a single small business in our district and potentially across the country via this process is a prudent and efficient way for Congressman Fitzpatrick to help keep people working."