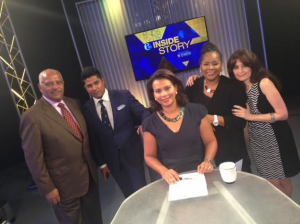 Every Friday afternoon, we provide a preview of the various Sunday morning political talk shows that are filmed and broadcast throughout the commonwealth.
Our hope is to alert readers to the important interviews and insights that each show in their region offers.
@Issue
NBC10-Philadelphia-11:30 a.m.
Guests this week are:
Council President Darrell Clarke – He will discuss council's agenda for the fall and the budget impasse.
Judge Marjorie O. Rendell – She will discuss the new Rendell Center for Civic and Civil Engagement at the University of Pennsylvania and her goal for better civics education.
Pat Kraft – Director of Athletics for Temple University, he will discuss the impact a win like the football team had on Saturday against Penn State means for the school. We will also discuss Temple's desire to build a new stadium and the impact on the sports department from the cutting of several teams last year, which became a big local story.
Face the State
CBS21-Harrisburg-11:30 a.m.
Erik Arneson is on the show from the Department of Open Records. We're talking about his current status while his job is in limbo…also what the office does and what he's hoping to do to bring the records to the people. Plus, Tony and Charlie are both here.
Inside Story
6abc-Philadelphia-11:30 a.m.
Host Tamala Edwards and our Insiders discuss a myriad of topics…starting with Papal Visit tickets selling and how the city is 're-selling' this event in a PR turnaround. Pope Francis has been vocal on a host of issues including abortion and annulments…but will he speak about Philly's legal battles with sex abuse and the church on his visit? Other topics include how the PA Budget impasse is affecting social services and non-profits, Katie McGinty racks up endorsements for her Senate run, plus can the DNC's goals of 35% Minority vendor participation make an impact on long term economic development?
Roundtable
George Burrell
Ajay Raju
Christine Flowers
Renee Amoore
KD/PG Sunday Edition
CBS2-Pittsburgh-8:30 a.m.
This Sunday morning at 8:30 a.m. (NEW TIME PERIOD, DURING THE NFL FOOTBALL SEASON), on KDKA-TV's "KD/PG Sunday Edition" broadcast – with KDKA-TV News Anchor Ken Rice and John Allison, Associate Editor of the Pittsburgh Post-Gazette:
We'll preview Pope Francis' first visit to the United States – scheduled to take place, from September 22nd-28th – in Washington, D.C., New York City, and Philadelphia. Our guests include Duquesne University's George S. Worgul, Ph.D. , S.T.D. – Professor of Theology — and Gerard Magill, Ph.D. – the Vernon F. Gallagher Chair for the Integration of Science, Theology, Philosophy and Law.
We'll also meet two students from Carlow University – Gina Marie McGowan – a nursing school sophomore – and Alexandra "Alex" Lieb – a junior, in Management, Health Services, and Human Resources – who are traveling to Philadelphia, to witness the Pope's historic appearance.
Please join Ken Rice and John Allison – in our NEW time period – Sunday morning 8:30a.m. – for the "KD/PG Sunday Edition" – on KDKA-TV.
Pennsylvania Newsmakers
WGAL Channel 8 (Harrisburg and Lancaster) Sunday, September 13th at 7:30 AM
Pennsylvania Cable Network, Sunday, September 13th at 4:30 PM
WBPH (Lehigh Valley and Philadelphia) Monday, September 14th at 8:30 PM
WKBS 47 (Altoona) Saturday, September 19th at 9:30 AM
WPCB 40 (Pittsburgh) Saturday, September 19th at 9:30 AM
This week's Pennsylvania Newsmakers features Brian Roche, consumer investigator and WGAL-TV anchor on the latest scams facing consumers. Then, joining host Terry Madonna is Andy Carter, President and CEO of the Hospital & Healthsystem Association of Pennsylvania, for a discussion of preparations for Pope Francis' visit to Philadelphia, and how state budget proposals impact hospitals. Link here.
The Sunday Business Page
CBS2-Pittsburgh-6:30 a.m.
This Sunday morning at 6:30a.m., on KDKA-TV's "The Sunday Business Page" – with KDKA-TV's Money & Politics Editor Jon Delano:
Our entire broadcast is devoted to a growing segment of Pittsburgh's economy: the medical research and treatment of patients suffering from catastrophic illnesses, such as cancer, and what's also being done, on the legislative front, to attack the disease.
In our first segment, we'll talk about a Democratic proposal in the Pennsylvania legislature – House Bill#1213 — that would help address the state budget shortfall, and also provide a possible deterrent to the use of tobacco products:
A higher, and more extensive tobacco tax.
That bill — co-sponsored by Pittsburgh legislator Dan Frankel (D) PA 23rd District(Squirrel Hill) – would increase the state 's cigarette tax by one dollar — per pack — and would also institute a new, 40-percent tax on the wholesale price of other tobacco products, including electronic cigarettes, smokeless, and "roll-your-own" tobacco, as well as pipes, and cigars. Pennsylvania is the only state that does not tax smokeless tobacco, and is only one of two states without a tax on cigars.
We'll discuss this proposal with Rep. Dan Frankel and Marina Posvar – a cancer survivor – herself – volunteer, with the American Cancer Society, and Patient Navigation Services Coordinator, at the University of Pittsburgh's Hillman Cancer Center.
Then, we'll mark the 30th anniversary of Pitt's Cancer Institute and UPMC Cancer Center – one of the largest, integrated community cancer treatment and research facilities of its kind, in the United States. Nancy Davidson, M.D, — the Institute and Center's director – will join us, to discuss the dramatic changes taking place, in the type of cancer treatment that targets the individual patient's own challenges.
We'll also pay tribute to Pittsburgh philanthropist and political leader Elsie Hillman – who died, last month – and whose personal and financial commitment to the University of Pittsburgh's medical care and scientific research – has changed the lives of thousands of cancer patients.
Finally, we'll meet a medical researcher from Children's Hospital of UPMC – who will benefit from a $250,000 gift from the Pittsburgh Area Hyundai Dealers' "Hope on Wheels" campaign. The national effort by Hyundai is providing ten and a half million dollars, to support 45-pediatric cancer research projects at children's oncology group member institutions, across the United States.
Anthony Graves, M.D. will tell us about his own research – which investigates neuroblastoma – a particularly devastating form of pediatric cancer, that develops in the nerve tissue of the adrenal glands, on top of each kidney. He'll also discuss what's being done, to treat and, perhaps, eventually, stop the progression of the disease.