Super PAC Launches Anti-Holden Ad (Watch Video)
Shots fired. The Campaign for Primary Accountability (C4PA), a super PAC that targets incumbents of both parties, launched a $70,000 ad buy today against PA-17 Rep. Tim Holden. The ad accuses him of cozying to Wall Street interests.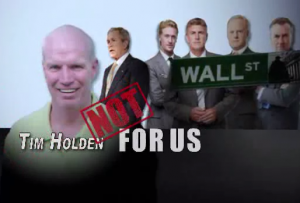 "Who does Tim Holden look out for?" says a female narrator. "Congressman Holden took $700,000 from the financial industry, and voted to help corporations avoid paying taxes."
The commercial also touches upon Holden's voting record, while accusing Holden of helping former President George W. Bush cut taxes for the wealthy.
"[He] voted to help corporations avoid paying taxes," the narrator says. "But Holden did help George W. Bush cut taxes for the top 1 percent."
"Holden voted for two pay raises for himself ―$13,000 per year," the narrator says.
The C4PA predicted earlier this month that it would spend $200K against Holden, and a spokesman said this ad would air through the April 24 primary on broadcast in the Scranton/Wilkes-Barre market.
Possibly in anticipation of the negative onslaught, Holden's camp launched an ad this week in an attempt to negatively define his challenger, Lackawanna County attorney Matt Cartwright.
His camp swung back hard against C4PA.
"The Campaign For Primary Accountability Super PAC is poised to spend hundreds of thousands of dollars to distort Tim Holden's record of public service and are determined to buy this election," said campaign manager Eric Nagy.
"What we have here is a case of the rich helping the rich – billionaires and millionaires coming to the rescue of fellow millionaire Matt Cartwright," he said. "Now Cartwright is prepared to write a big, fat check to buy himself a seat in Congress, all the while letting his Republican billionaire friends from Texas do the dirty work."
The group also unveiled an ad against its other Pennsylvania target, Rep. Tim Murphy (R-Allegheny), earlier this week.
Update: Here's a copy of the web ad that the PAC is running in the district.