Video Surfaces of Barletta Staffer Enforcing Recording Ban
By Keegan Gibson, Managing Editor
A new video has surfaced that complicates Rep. Lou Barletta's effort to end several days of criticism about a reported ban on recording devices at public events.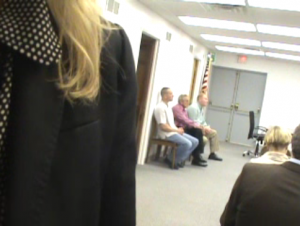 The video surfaced only hours after Barletta's office said there had never been any recording ban at public events, and that the rule was enforced at a meeting on May 19 only because that event was private.
The footage, passed along by a Democratic source, shows a woman (apparently a Barletta staffer) telling the person filming to turn off his camera. The woman  appears to acknowledge that the event is public but insists that the man cease filming.
"He's a public official at a public event," said the cameraman, after being approached by the woman.
"Yes, and there's no videoing," the woman replied.
Asked for comment, Barletta's office reiterated that the event was private.
"It was a private meeting for all the reasons I outlined earlier," said spokesman Shawn Kelly.
Here's the video:
And here is a transcript:
As the cameraman enters the meeting, Rep. Barletta appears to be explaining the Republican plan to reform Medicare.
Woman: "Excuse me, there's no videoing. There's a sign right there, there's no videoing."
Cameraman: "He's got a video camera.
Woman: "He's with our staff."
Cameraman: "He's a public official at a public event,"
Woman: "Yes, and there's no videoing."
Cameraman: "Why? (sign)"
Woman: "Because, there's a sign posted right there.
Cameraman: "So there's no chance I can just stand in the back quietly?"
Woman: "no."
Cameraman: "You sure?"
Woman: "I'm sure. Thank you."