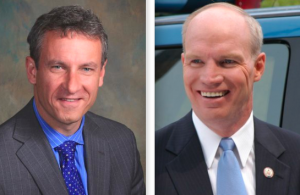 The online progressive community, known collectively as the Netroots, has the ability to bring national attention and fundraising to candidates they see as liberal true believers. In Pa., blue dog Congressman Tim Holden faces a primary from liberal attorney Matt Cartwright. One national website is already tuned in. Will the movement follow?
"When I announced this candidacy for Congress, I immediately had emails from [Netroots sites]," Cartwright said in an interview with PoliticsPA. "It does create a certain national awareness of my campaign that otherwise would not have happened."
Cartwright decided to challenge Holden after redistricting, when map-drawers took the 17th from an R+6 to a D+4, meaning that Democrats earn 10 points more on average in the new district than in the old. Holden's constituents got much more blue.
Some of the national blogs and websites that comprise the Netroots include Daily Kos, MoveOn.org, and Down With Tyranny. With the help of these sites and communication through social media, the movement publishes prolifically and boasts a passionate following, whose attention (and donations) can then be directed toward specific candidates.
"Netroots is basically social activism. It's about raising awareness about Democratic candidates," said Tom Borthwick, publisher of NEPArtisan. The site is a local counterpart to the national online movement.
In Holden — who joined the Blue Dog coalition and a lawmaker who identifies with the crowd to the right of the average Democrat — one blog has found a political punching bag.
Down With Tyranny, based in Los Angeles, has endorsed Cartwright and written about his primary with Holden numerous times. Cartwright's son, Jack, penned an article on the site about his dad's campaign – and reiterated Cartwright's liberal criticism of Holden:
My father believes that everyone in this country is entitled to health care while his Blue Dog opponent does not. My father believes that the government should protect the environment while his opponent votes with the Republicans to frustrate environmental protections. My father believes that we shouldn't be making it harder for middle class folks to declare bankruptcy against credit card debt, while his opponent voted for that. My father believes that we need energy independence in this country without giving tax breaks to huge oil companies, while his opponent voted for the Bush-Cheney energy policy of 2005.
But Holden isn't pulling his punches, either. He took direct aim at his opponent in an interview with PoliticsPA.
"Running for congress is a side-show [for Cartwright]," he said, noting that Cartwright owns an expensive home in Florida. "[He] doesn't have a clue what the average resident in PA-17 goes through on a daily basis."
But above all, the former Schuylkill County Sheriff cited his tenure within congress as the tipping point in the PA-17 race.
"You have someone who has served in Congress for 20 years. I am proud of my record in Congress," Holden said, and cited his clout. "There is not one piece of legislation dealing with transportation and agriculture in which I have not been in the room."
He also boasted of securing $500 million dollars for environmental protection in the Chesapeake Bay area and funding for the construction of Penn State Hersey Milton medical center. He talked about the blue-collar values of his ancestors and his support of the recently signed impact fee for Marcellus shale drilling.
While Holden didn't directly address the interaction between the Netroots and the PA-17 Democratic primary, he did say that he doesn't plan on changing his campaign strategy in response to any blogs.
"My game plan is the same as for every campaign," he said.
Will the Netroots tune in?
For the Netroots, PA-17 is not a top target. According to Adam Bonin, a contributing writer on legal issues for Daily Kos, "The Netroots' priority right now in terms of primaries is Ilya Sheyman in IL-10 on March 20; we'll see if this race [PA-17] grabs people thereafter."
Bonin, a Philadelphia attorney who serves as chairman of the board of Netroots Nation said he hadn't seen significant attention on PA-17 to date.
"Congressman Holden has never been a particular bugaboo for the Netroots, and Cartwright still has to make the case that he should be," he said. "I've seen limited outreach from Matt Cartwright, but nothing yet that has grabbed people enough to nationalize this race."
When asked about his impression of the Netroots, Cartwright said that he has only has limited knowledge of, and interaction with, the movement, and that he wasn't sure how widespread is is in the district. He also said that the movement parallels much of what he is hoping to achieve if elected.
"Our campaign and the progressive movement share the same political views as I do against my opponent," Cartwright said. "My impression has been that these bloggers are fairly progressive and it does make it a kind of natural [link to my campaign]. These progressive national blogs are really only read by people who are quite dialed in politically."
State of Play in Pa-17
While it remains to be seen just how big of a role the Netroots will play in the upcoming election, Holden has the most difficult Democratic primary of any incumbent in the state. Cartwright enjoys name ID from a legal advice segment he has conducted on local news in NEPA for years. 80 percent of his constituents have never seen Holden's name on a ballot, and 56 percent of 17th district Democratic primary voters reside in Lackawanna and Luzerne counties.
"Holden's got issues in this area," Borthwick said. "People have been blasted by the Cartwright name for years now. He's got a lot of political connections built in already. The local party committees [which have backed Holden] don't have nearly the influence that one would think."
As a Scranton resident, Borthwick has a front row seat for the PA-17 race —a battle that is shaping up to be a knock down, drag out fight.
"I feel like Holden's going to have a really, really tough battle," he said. "Cartwright has really been hitting the pavement hard."
Netroots Vindication for Holden?
The last word that anyone would use to characterize the Netroots is homogeneous. And indeed, some writers are sympathetic with Holden's position – a Democrat representing a conservative district.
In an extensive analysis, Daily Kos writer David Jarman looked at every district in the country to compare voting record data versus voting trends. He was looking to see which members of Congress voted more liberally than their districts, and which ones voted less.
What he found was that from a Democratic standpoint, based on his deep-red district (prior to the new map), Holden has been one of the top fifteen most over-performing members of Congress.
Down With Tyranny
Howie Klein is an accomplished former record producer-turned-activist. He founded Down With Tyranny and is also the treasurer of the Blue America PAC, which he says has raised over $3 million for progressive candidates. NEPA has been on his radar since he owned a home and lived in Stroudsburg a few years ago.
"I've been against Tim Holden long before I ever heard of Matt Cartwright," he said. "To me, blue dogs are even worse than Republicans. Republicans can't destroy the Democrats from the inside, blue dogs can. They can ruin the Democratic brand."
He dismissed Holden's argument that conservative was the only mold of Democrat who had a shot at winning the current 17th district.
"It's a fallacy. Democrats are able to win Republican-leaning seats, but to do it they need to draw a strong contrast," he said.
Klein's site has featured six articles on the PA-17 race since January, and is hoping he can direct national attention to Holden after the Illinois primaries are over on Tuesday (he reiterated that the national Netroots movement is focused on Ilya Sheyman in IL-10).
But he's skeptical. He said he doubts that the national progressive movement will take aim at Holden because the Congressman's ties with labor unions are too strong.
"I don't expect anything to happen," he said. "They're afraid to go after Democrats. The movement isn't vibrant enough to take him on."
And even if they do get involved, he said, it's unlikely to be a windfall of cash for Cartwright.
"Talking to him we got the sense that fundraising wasn't the most important way we could help him," Klein said, adding that he thought Cartwright could self-fund. "The movement could help him with message."
And Cartwright isn't counting on it, either.
While political strategies can change during a campaign, when interviewed by PoliticsPA Cartwright discounted the idea of getting the Netroots involved.
"The answer is no, [I won't highlight Netroots articles against Holden]," he said. "Those are attacking, negative. It's mostly about style. That's just not the kind of campaign we're running."
Keegan Gibson contributed to this report.