2/16 Morning Buzz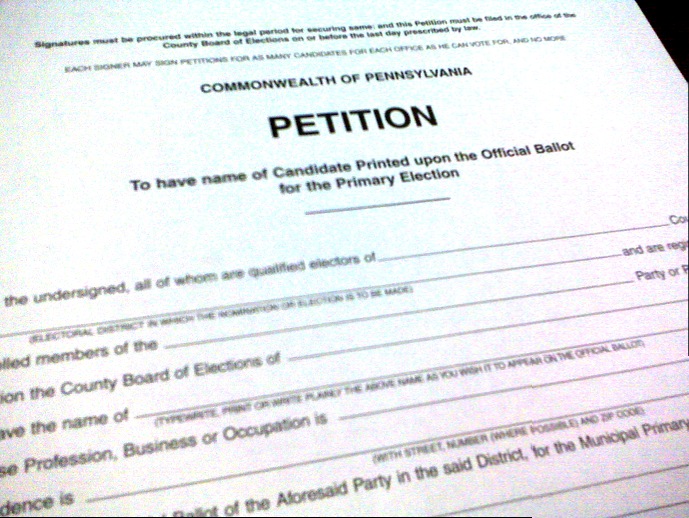 Good morning politicos, and welcome to the Buzz. Petitions are due today for state House and Senate candidates. See you at the State Department!
Bissinger NYT Op-Ed: Buzz Bissinger has generally nice things to say about Ed Rendell's tenure as Philadelphia Mayor. But he strongly opposes the former Guv's efforts to puchase the Inky and the Daily News.
Critz Internal Poll: Mark Critz's campaign knows he is starting out behind in his primary against fellow Congressman Jason Altmire. But a polling memo released Wednesday lays out what they say is a viable path to victory.
Santorum Throws the Mud Back at Romney: Mitt Romney's campaign strategy has seemed like a game of whack-a-mole – whenever a prospective threat appeared, they and their associated superPAC trained fire and brought them down. Rick Santorum wants to turn that into a liability.
Trivedi Camp: PA-6 is a Dem District: A Trivedi campaign memo details why they think the newly-drawn 6th district is still in play.
Legislative Election Updates:
SD-37: It's official: Raja is in. He and State Rep, Mark Mustio are both seeking the seat of retiring Sen. John Pippy.
SD-49: Erie County Exec Barry Grossman is not apologizing for sending out a letter – on county letterhead – that favors Dem candidate Sean Wiley. Six Dems and two Republicans are expected to make the ballot for the seat of retiring GOP Sen. Jane Earll.
HD-3: Erie County Republicans are accusing State Rep. John Hornaman of delaying his retirement announcement in order to boost his chosen successor, Ryan Bizzaro – and to make GOP recruiting more difficult.
HD-46: State Rep. Jesse White (D-Washington) is running for re-election reports the Observer Reporter.
HD-182: Primary challenger Brian Sims is zinging Rep. Babette Josephs for her support of the 'Year of the Bible' bill. "I call on Representative Josephs to reconcile her contradictory statements to constituents and the press regarding her vote on HR 535," says Sims.
National:
AP: Santorum revels in sudden support, but how deep?
WFMZ: Santorum exploring secret service protection on campaign trail
Slate: Santorum pulls ahead of Romney in Ohio poll
USA Today: Pro-Romney group slams Santorum on spending record
USA Today: Ron Paul isn't going to ask for a Maine recount
Five Thirty Eight: The fundamentals now favor Obama
NY Times: Poll finds support for contraceptive coverage, gay unions
The Hill: House GOP looks to subpoena White House officials over Solyndra
The Hill: Lawmakers race to finalize extension of payroll tax holiday
The Hill: Social conservatives press Obama on birth control mandate
Washington Post: Can Rick Santorum be more than "not Mitt?"
Politico: Obama talks tax reform in Wisconsin
Politico: Republicans turn defense cuts on Obama
Pennsylvania Ave: Democrats turn attention to Santorum
Dredging News Online: Obama budget includes US $31 million for Delaware River deepening
Philadelphia Weekly: ?uestlove shoots video for Barack Obama Presidential campaign
Statewide:
The Times Leader: Candidates secure spots on ballot
Capitol Ideas: Wednesday Morning Coffee: Used cars, available cheap
State House Sound Bites: StateImpact Pennsylvania: What's next for the impact fee?
State House Sound Bites: Links: Scarnati hesitates to support later primary, Veon trial begins
StateImpactPA: Drill Bits: A test and a challenge to the Impact Fee Law, and new rules for fracking on public lands
StateImpactPA: What's next for Pennsylvania's Impact Fee?
StateImpactPA: "LNG exports could raise U.S. gas prices by as much as 54% by 2018"
StateImpactPA: PUC Chair: Private company will collect impact fee revenue
StateImpactPA: Congressman says Philadelphia area refinery closure could threaten national security
StateImpactPA: The other energy bills Corbett signed this week
PA Independent: PA divided over prevailing wage reforms
Capitolwire: Scarnati concerned about moving primary, wants June budget. Costa agrees.
Capitolwire: Wagner requests budget increase, more oversight of cyber charter school funding
Capitolwire: Chairpersons battle as House panel hears testimony about reining in state spending
Capitolwire: OFF THE FLOOR: Costa using new clout to push for map to move Pippy seat, not Brewster's
AP: Penn. law makers rally support for refineries
AP: Agencies make records available
Chestnut Hill Patch: Why are co-ops now in the news more often?
Bloomberg: Pennsylvania lawmakers vow to fight closing of refineries
Market Watch The Wall Street Journal: AMA honors U.S. Representative Allyson Schwartz with top government service award
The Hill: Critz encouraged by latest poll, despite still trailing Altmire by double digits
Ellwood City News: 'No budget, no pay' supported by Altmire
Penn Live: Republican candidates make last-minute rush to get on Pennsylvania ballot
The Hill: Adopting the DISCLOSE Act will help voters
Inquirer: NRA applauds Pa. bill on local gun laws
Philadelphia:
AP: Philly church-abuse judge refuses to step down
Inquirer: Candidates file to run in Pa. primary
Inquirer City Commissioners clash over agenda
Philadelphia Weekly: Brian Sims hits rep. Josephs over 'Year of the Bible' apology
KYW Radio: Fitzpatrick pushes bill to support families of fallen volunteer EMTs
WHYY Newsworks: Super PACs beginning to sprout in Delaware, New Jersey and Pennsylvania
SEPA:
Pottstown Mercury:  Corbett budget may stiff Pottsgrove $3.2 million for Ringing Rocks
Philly Burbs: Council eliminates tax hike; manager says township "financially distressed'
Philly Burbs: Plan for Willow Grove nearly complete Mike
Delco times: Meehan schedules hearing to probe impact of refinery closings on national security
Delco Times: Congressional candidates file their petitions; Sestak fails to file
BUcks Local News: Newtown Borough Councilman Gerard O'Malley tenders his resignation; cites new work duties as the cause
Daily Local: Dowingtown district Judge barred from court during probe
Pittsburgh:
Tribune-Review: Allegheny County agency can't protect kids 24/7
Tribune-Review: Judge rejects Washington County reassessment appeal
Tribune-Review: State agrees to pay $52,000 in Westmoreland sexual harassment case
Post-Gazette: Possible federal charges in drilling firm embezzlement case
Post-Gazette: Pittsburgh Komen affiliate loses 2 Race for the Cure sponsors
Early Returns: Raja files for Pippy seat
Early Returns: New candidate list, this time with Maher
Early Returns: Critz poll: Within 10 of Altmire
Early Returns: Mixed primary signals by Senate Rs
Southwest:
Observer-Reporter: White to seek fourth term in state House
Indiana Gazette: Audit shows district was overpaid for transportation
Indiana Gazette: Clymer city Council considers how to improve "walkability"
Somerset Daily American: Meyersdale continues building discussion
Somerset Daily American: North Star reaches tentative agreement on teachers contract
Somerset Daily American: Officials explain taoll credits, the missing piece to a completed Route 219
Somerset Daily American: State commission rejects removal of county employee
Altoona Mirror: County system will alert residents
Altoona Mirror: Cambria budget approved Tuesday
Daily Courier: Possible Connellsville school closures concern many
Daily Courier: Uniontown Area to save at least $160 K
South Central:
Patriot-News: Cumberland County Proposes Changing Three District Judge Districts
York Dispatch: 9 file to fight for Platts' seat
Lehigh Valley:
WFMZ: City's managing director  steps down for county job
WFMZ: Corbett talks budget on 'Business Matters'
Reading Eagle: Spatz: Mayor weighs in on gay marriage
Reading Eagle: Tracking Berks voters often tricky
Reading Eagle: Deal adds $3 million to Reading budget
Reading Eagle Obama plan pleases president of RACC
Express Times: Upper Nazareth Township business shut down for violations, owner says he followed procedures
The Morning Call: Transportation bills streamline projects
NEPA:
The Times Leader: President hopeful visits campus
The Times Leader: Candidates secure spots on ballot
Times Tribune: Doherty: Campaign donations played no role in Scranton streetlight contract
Times Tribune: Governor approves KOZ extension
Times Tribune: Confusion reigns in Scott Twp. over sewer project
Times Tribune: Agencies stewing over budget cuts
Times Tribune: Local congressional races will have contests
Citizens Voice: Chamber restarting search for CEO
Citizens Voice: In their words: County council members explain vote backing tax hike
Citizens Voice: PUC eyes private firm for impact fee collection
Citizens Voice: Meeting scheduled to discuss Meyers' future
Citizens Voice: Nanticoke officials, home rule panel clash over policies
Wayne Independent: Energy costs focus of board
Wayne Independent: Council: "No postal laws broken" in mail removal
Wayne Independent: Penn. lawmakers rally support for refineries
Standard Speaker: Lawton's start date as Luzerne County manager delayed
The Daily Review: Athens restructure plan passes
North by Northwest:
Erie Times-News: President's budget plan contains funds to restore the Great Lakes
Erie Times-News: Erie county exec unapologetic about letter touting candidate
Erie Times-News: GOP questions timing of Hornaman's announcement to not seek re-election
Erie Times-News: Candidates filling out Pennsylvania primary ballot
Campaign 12' Blog: Democrats line up for Senate seat in 49th district
Courier Express: Candidates file papers for April 24th primary election
Courier Express: Former election director returns to Clarion County
Courier Express: Local leaders react to state budget plan
Sharon Herald: Education called the key to U.S industrial policy
Williamsport Sun Gazette: Tioga leaders to review impact fee before deciding
Williamsport Sun Gazette: Lycoming County to consider inmate cost containment
Opinion:
The Daily Review: Editorial: Put housing on solid ground
Wayne Independent: Opinion: You can have voice in school funding
Standard Speaker: Editorial: Look overseas for defense savings
Patriot-News Editorial: No Thanks, Grover: Officials Are Wrong To Take No-Tax Pledge
Charlie Gerow, Patriot-News Op-Ed: Gov. Corbett's Budget Is A Welcome Change From The Usual In State Government
Tribune-Review: On to Tehran – or Demascus?
Tribune-Review: Rising black social pathology
Post-Gazette: Obama's blueprint: Congress must work with him on approving a plan
Post-Gazette: Health concern: Government should not do the bishop's work
Indiana Gazette: Controversy won't end soon
Courier Express: Hold our noses as we await new Marcellus law and tax… oops, fee
Blogs:
North Pittsburgh Politics: Rep. Ravenstahl crushes Mark Purcell for Democratic endorsement
Citizens' Call: Short-term measures approved to reduce flooding
Citizens' Call: Anti-discrimination ordinance up for vote Wednesday
John Hanger: NOAA date underline need to cut methane leakage
John Hanger: Low gas price triggers price war for electricity customers
Keystone Politics: GOP voters struggle to care about weak senate field
Keystone Politics: Defending 'fishtown' from the 'right wing'
Keystone Politics: Who won the Democratic AG debate?
Above Average Jane: New American divide
Above Average Jane: Preventative health services for Pennsylvania residents
The Pennsylvania Progressive: Is Mitt Romney severely 'freudian?'
2 Political Junkies: How technology is changing the aesthetics of news
Lehigh Valley Independent: Voters rejecting GOP war on birth control
Lehigh Valley Independent: Builder confidence index at highest level since 2007
Lehigh Valley Independent: Feed purge
Lehigh Valley Ramblings: Jesse Jackson: "We need each other"
Lehigh Valley Ramblings: Scott Armstrong: Why I am for Mitt Romney
Commonwealth Foundation: Will the union party win again?
Speaking Freely (ACLU-PA): Reproductive health locked up
Keystone State Education Coalition: Bucks County lawmaker wants constitutional reform on campaign finance
Commonwealth Foundation: Attacking cyber school funding
Commonwealth Foundation: Which county will get duped into imposing fracking tax?
Commonwealth Foundation: Pennsylvania's prevailing wage law