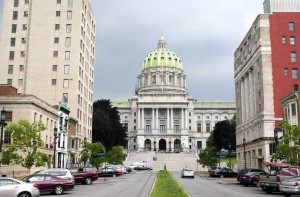 Good morning politicos, here's the buzz. Ward's judgeship may not be a sure thing, the Steelers family comes out for Critz, and Tina Fey jumps into a funding battle over her PA high school.
Don't forget to check back later for the Ups & Downs.
Corbett Criticized for Appointing Former Staffer to Judge: Gov. Tom Corbett's appointment of his former chief of staff Bill Ward has raised red flags among Democrats and judges in the state. The questioning of the appointment comes after state Republicans called for Corbett to shake up his campaign staff, allegedly causing Ward's resignation.
Steelers Owner Art Rooney II, Other Big Dems to Rally for Critz: Keith Rothfus may have the upper hand, but with a fundraiser planned (and some big names hosting it) Critz is surrounded by a team of party, labor and business leaders to help him stock up for a sure-to-be-contested general election against his Republican challenger.
Tina Fey Fights to Save the Arts in Pa. Hometown: Upper Darby native Tina Fey has publicly joined the Save Upper Darby Arts movement. Art and music classes are in danger of being cut from U.D. elementary schools to save the district $3 million.
National
AP: Bush is back – portrait event stirs up odd politics
AP: Romney, Obama ramp up attacks on economic records
AP: Fox exec says criticized Obama video uncalled for
AP: Mistrial declared in corruption case against John Edwards
AP: Romney assails Obama's record on green energy
KYW Newsradio: The Electoral College map: How Obama or Romney could win
ABC Philadelphia: Tax Brawl Brewing on Capitol Hill
Roll Call: Mitch McConnell picks top races in majority quest
National Journal: Romney down on Keystone State prospects
Tampa Bay Times: Five things to watch in the 2012 presidential campaign
Statewide
AP: Corbett's judicial rankles chief justice
AP: Pa. higher ed panel to hear from stakeholders
AP: Corbett move to fill court seat a surprise
AP: Voter group can't intervene in voter I.D. case
Morning Call: Thursday morning coffee: the five things you need to know this morning
Morning Call: Corbett's budget plan axes 'last resort' help for poor
Tribune Review: Candidates line up to fill remainder of Orie's term
Tribune Review: Candidates use lawyers for early battles
Tribune Review: Bill would protect service dogs
PA Independent: PA gov allies call out background of attack ad maker
PA Independent: New database tracking PA welfare spending
WFMZ: Pa. higher ed panel to hear from stakeholders
Pittsburgh
Tribune Review: Judge freezes Orie campaign and pension accounts
Tribune Review: Corbett move to fill court seat a surprise
Tribune Review: Candidates line up to fill remainder of Orie's term
Tribune Review: Washington County judge removed from criminal cases
Tribune Review: Four Western Pa. firms sue for pay in stimulus project
Post-Gazette: Judge freezes Jane Orie's campaign, pension accounts
Post-Gazette: Judge lifts order protecting Beaver County drillers
Post-Gazette: Washington County judge reassigned to hear only civil cases
Early Returns: Dems pick for Orie seat June 7
Early Returns: Rooney, Altmire host Critz fundraiser
Early Returns: Judge spot for Corbett pal in limbo
KDKA: Columnists sound off on media bias
KDKA: Congressman Mike Kelly Talks Politics with Robert Mangino
KDKA: City Councilman Blocks Tax Break Extension
Southwest
Beaver County Times: Ellwood City councilman cited with harassment
Beaver County Times: Judge freezes Jane Orie pension, campaign funds
Beaver County Times: Day of stunts, stagecraft on presidential campaign
Observer-Reporter: Judge relieved of criminal case duties
Observer-Reporter:  House passes Rep. Tim Murphy's generic drug legislation
Observer-Reporter: Voter ID at center of county lawsuit
Indiana Gazette: Teachers give OK to report
Indiana Gazette: School superintendent search narrowed to three candidates
Altoona Mirror: New state Senate bill would update Act 47
WJAC: Cambria Co. elections director retiring
WJAC: Officers beef up presence, conduct saturation patrol
Philadelphia
WHYY Newsworks: Council plans to work on budget deal next week
WHYY Newsworks: Councilman wants a tax break for long term residents of gentrified Philly neighborhoods
Philly Clout: How will Council raise money for schools?
SEPA
Bucks Local News: Congressman Fitzpatrick pushing for Senate to pass long-term of flood insurance program
Bucks Local News: Gov. Tom Corbett fields questions on the budget, school funding and property taxes at forum with regional editors
NEPA
The Times Leader: In area state House races, incumbents winning early battle of bucks
Times-Tribute: Court finds right to know isn't game Public authority can't hide public information
Standard Speaker: GOP leaders plan changes to state pension
The Daily Review: EMTA board discusses budget
Pocono Record: Pocono Mountain school board passes 'miracle' budget with no tax hike
South Central
Carlisle Sentinel: Voter group can't intervene in Pa. voter ID case
Carlisle Sentinel: Pa. higher ed panel to hear from students
Harrisburg Patriot News: Harrisburg and its residents deserve better from the state
Harrisburg Patriot News: Can you spell crisis? Public schools
York Daily Record: Proposed block grant system could be a second blow to county's human services
York Dispatch: Corbett signs three more death warrants
North by Northwest
Centre Daily Times: State Rep. Mike Hanna recovering after surgery
Lewistown Sentinel: Local numbers on the rise in April
Opinion
Inquirer: Not the time to stop land preservation
Philadelphia Daily News: What Mayor Nutter can learn from other mayors
Pottstown Mercury: Schools' reserve funds are an issue, but not the full story
Delco Daily Times: Corbett staying true to campaign promises
Morning Call Op-ed: Constitution mandates that courts shall be open
Morning Call Op-ed: Tweets can undermine the integrity of the trial process
Express Times Op-ed: The Morning Note: Who do you think should be Romney's running mate?
South Whitehall Patch Op-ed: Corbett's tax pledge costs the rest of us
Courier Express: State lawmakers kiss up to cronies while deficit looms
Williamsport Sun Gazette: Human services fund problems weren't created overnight
Lewistown Sentinel: Support for vets must never lapse
Blogs
Speaking Freely (ACLU-PA): Noxious creeping: amending the PA Wiretap Act Part II
Young Philly Politics: After two years, the will of the people is upheld in the Tracey Gordon case
Keystone State Education Coalition: Only Romania ranks higher among developed countries, with 25.5 percent of children living in poverty (compared with 23.1 percent in U.S.)
The Lu Lac Political Letter: Edition #2073, forming a budget
The Lu Lac Political Letter: Edition #2074, former 20th District State Senator Charles Lemmond
2 Political Junkies: Factcheck.org fact checks Crossroads GPS
Keystone Progress: Labor leaders release major study about the associated building and contractors, exposing a disinformation campaign designed to undermine America's labor laws
Keystone Progress: Survey says: students in Pa. pay price for further education cuts
Keystone Progress Stand with Planned Parenthood. Stop the GOP War on Women
Keystone Progress: Koch Network Alone To Spend More To Defeat Obama In 2012 Than McCain Raised In All Of 2008
Keystone Progress: Huge victory! Wal-Mart quits ALEC! Largest gun dealer in U.S.
Keystone Politics: CREDO SuperPAC launches "Seniors Against Fitzpatrick" Committee
Keystone Politics: Pittsburgh labor force participation keeps growing
Keystone Politics: People who make $250K are rich
Keystone Politics: Daylin Leach is hilarious
Keystone Politics: Pa. doesn't have an "Act 47" problem, it has a municipal finance problem
Keystone Politics: Are there any good reasons not to move education finance to the state level?
Keystone Politics: How Tom Corbett's dithering on transportation could hurt the Pittsburgh recovery
Keystone Politics: Bad news on the Philly zoning front
Keystone Politics: Property tax confusion from Terry Madonna
John Hanger: Weston Solutions & Chesapeake release Bradford County test results for split samples Of EPA fracking study
John Hanger: Stunning facts: 2 million hybrids & nearly 50,000 EVs on roads
John Hanger: Falling oil hits $87.60 and Obama haters & oil company conspiracy theorists