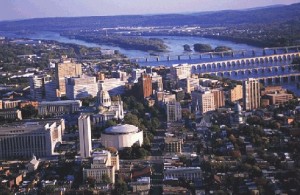 Budget mayhem continues in Harrisburg as lawmakers race toward the Sunday deadline, and an enviro group launches ads in PA to boost Obama's climate plan. Good morning politicos, here's the Buzz.
Thursday Budget Buzz: Hurry Up & Wait: Legislation stalled out Wednesday. No official movement on liquor, transportation, Medicaid, or pension reform. Lots of vote whipping though in the back rooms, or at least attempts to.
Eco Group Ads Boost Obama Climate Plan (With Video): The Environmental Defense Action Fund will be airing ads in the Philadelphia and Pittsburgh markets.
Dems for Gov Praise DOMA Ruling: Support for same sex marriage is firmly in the mainstream of Democratic politics in Pennsylvania.
Redistricting: The Ins & Outs of the New House and Senate Lines: A look at some of the numbers behind PA's new state House and Senate districts. Which Democrats represent the most Republican districts, vice versa, and other statistical quirks.
Obama Targets Coal in Energy Speech, Praises Gas: The President's speech, largely supportive of natural gas, sparked sharp criticism from the state's coal industry.
Statewide
AP: Corbett, GOP struggle over priorities
State House Sound Bites: Deadline? Depends on who's asking
State House Sound Bites: House struggles with transportation funding
PA Independent: PA transportation funding bill may hinge on prevailing-wage reform
Capitolwire: New transportation amendment calls for $2.1 billion, no prevailing wage, no privatization language
Capitolwire: A toughened-up Delaware Loophole bill to help state revenues?
Philadelphia
Philly.com: LGBT leaders in Philadelphia hold rally following Supreme Court rulings
Commonwealth Confidential: Today's budget headline: Hurry up and wait
Heard In The Hall: Philly's African-Caribbean Affairs ex-chair in D.C. scandal
WHYY Newsworks: Pa. Judicial Court lowers boom on Nocella
WHYY Newsworks: Beginning to unwind same-sex marriage complexities in Pa., Del., and N.J.
WHYY Newsworks: Gosnell rejects plea deal for federal drug charges
Phillynow.com: State Sen. Farnese talks gay rights on Dick Morris' radio show
SEPA
Daily Local: W. Chester schools tout savings in new health plan
Daily Local: Coatesville board OKs 3.6% school tax hike
Pottstown Mercury: Basic skills saved, no tax hike in new Daniel Boone School budget
Courier Times: Bucks gun group splits over carrying firearms at rallies – Car
Ambler Gazette: Wissahickon School District, Ambler Borough enter into negotiations on former Mattison Avenue Elementary building
Ambler Gazette: Wissahickon School Board, support staff union reach contract agreement
Pittsburgh
Post Gazette: Pittsburghers cheer downtown as SCOTUS ruling is announced
Post Gazette: Ravenstahl's office confirms Pittsburgh won't bid for 2024 Olympics
Post Gazette: Vote falls short on Hill House Passport Academy Charter School – Kevn
Post Gazette: Can same-sex couples in Pa. gain benefits? It depends
Post Gazette: Fayette County residents file suit over coal refuse site
Post Gazette: Financing plan for housing in Pittsburgh's Squirrel Hill area moves forward
Post Gazette: Allegheny County's newly taxable list may be incorrect
Tribune Review: Advocates cheer Downtown as Supreme Court rules in favor of gay marriage
Tribune Review: Allegheny County gives preliminary go-ahead to borrow $49M for infrastructure projects
Tribune Review: Homewood arrest sparks community protest
WPXI: Pittsburgh won't bid to host 2024 Summer Olympics
WPXI: Downtown Pittsburgh crowd watches as Supreme Court makes gay marriage rulings
WPXI: Advocates cheer Downtown as Supreme Court rules in favor of gay marriage
WTAE: Pittsburgh responds to UPMC's tax dispute suit
WTAE: Cheers rise at Downtown Pittsburgh rally for gay marriage decisions
Southwest
Tribune-Democrat: Republicans resist Medicaid expansion
Tribune-Democrat: Area reps criticize climate strategy
Tribune-Democrat: Local reaction to Supreme Court ruling is mixed
Observer Reporter: Pa. ordered to speed food stamp processing
South Central
Patriot-News: Harrisburg school board approves $141M budget, 3.5 percent tax increase
Patriot-News: Medicaid expansion proponents to sleep in the Capitol 'until their voices are heard'
Patriot-News: Senate GOP leaders promise last, best effort to deliver on liquor privatization
Patriot-News: Corbett's wishlist proving to be a distraction to getting a budget done, Sen. Jake Corman says
Patriot-News: Distant GOP lawmakers make Corbett agenda more difficult
Patriot-News: Supreme Court strikes part of Defense of Marriage Act on gay couples' benefits
Carlisle Sentinel: State reactions to Supreme Court rulings on DOMA and Prop 8
Carlisle Sentinel: Silver Spring Township takes legal action against developer
NEPA
Times-Tribune: More details emerge in alleged Pa. Turnpike Commission bid-rigging scheme
Times-Tribune: Former Scranton school director pleads guilty in sexting case
Standard Speaker: Judges: Re-do school board race
Standard Speaker: Ex-election head sues county
Lehigh Valley
Morning Call: Lehigh County commissioners kill Costco TIF
Morning Call: What does gay marriage ruling mean in Pennsylvania?
Morning Call: Mayor blasts UGI, contractor for handling of Emmaus Avenue gas leak
Valley 610: Callahan campaign raises another $40,000
Reading Eagle: Clock ticking on tweaks to Reading school budget
WFMZ: Pennsylvania Senate debate on liquor bills postponed
WFMZ: US Department of Education conducts civil rights review of Allentown School District
Express Times: Proposed Pennsylvania bill forcing rapists to pay child support advances
Express Times: Parkland School Board approves 2013-14 budget, library tax that prompted lawsuit
Express Times: John Callahan continues to financially dominate the Northampton County executive race
North by Northwest
Sun-Gazette: Citizens weigh in on fixing Route 220
Sun-Gazette: Committee is OK with spending $3M
Centre Daily Times: Tim Curley, Gary Schultz want charges dropped because of 'cluster of errors'
Centre Daily Times: Pa. senators ramp up calls for Penn State governance reforms
Opinions
Inquirer: Karen Heller: Analysis rates Penna. poorly on racial attitudes
Daily News: Corbett's top 10 reason for falling short, just in case he does
Express Times: LETTER: Let Pennsylvanians purchase fireworks
Patriot-News: Time is tight, but Corbett, lawmakers must not fail on key budget questions
Times-Tribune: Give workers paychecks
Blogs
Keystone Politics: Frontrunner stumbles out of the gate
Keystone Politics: Have We Made Any Progress on Racial Politics?
Lehigh Valley Ramblings: Callahan Has 13:1 $ Advantage Over Brown
Lehigh Valley Ramblings: What Questions Would You Ask NorCo Council Candidates?