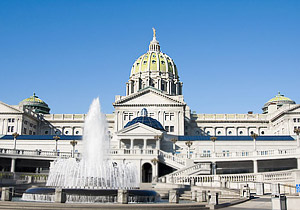 Good morning politicos, we hope you enjoyed your holiday. Here's the Buzz. Biden was in Scranton this week, Obama is coming to Pittsburgh Friday, and Govs. Pawlenty and Jindal will be there to welcome him.
Obama Bus Tour Trucking to Pittsburgh: Obama's campaign bus tour "Betting on America" will begin in Ohio July 5 and make its way to western PA, where it will end with a public event at Carnegie Mellon University July 7.
Jindal, Pawlenty to Greet Obama in Pittsburgh: Two of Mitt Romney's top surrogates will travel to Pittsburgh to welcome President Obama there. Governor Bobby Jindal of Louisiana and former Gov. Tim Pawlenty of Minnesota are holding a rally on Friday.
New Obama Ad Slams Romney on Outsourcing (Watch Video): As the two presidential contenders continue to spar over job creation and economic growth, the Obama camp has released a new ad to air in nine states, including Pennsylvania. The ad "Believes" highlights the campaign's central message, that Romney is an outsourcer, and Obama an insourcer.
On the Eve of the Fourth, Biden Heads Home: Vice President Joe Biden paid a visit to his native Scranton Tuesday evening, delivering a speech before the city's fireworks display. He spoke not of President Obama nor his Republican opponent Mitt Romney, not on the election of any of its hot button issues, but of his hometown roots.
In PA-18, a Battle Over Technicalities: In political reporting, it's common to receive an email offering some tidbit off the record or not for attribution. So far this cycle, there isn't a race in the state where the practice is more frequent than in the 18th district campaign between Tim Murphy and Larry Maggi. Here's the latest.
Reps. Cheer Bipartisanship That Saved Philadelphia Refinery: Rising costs threatened to shut Philadelphia's Sunoco refinery, but cross-party cooperation, labor involvement and a private sector not only allowed the refinery to stay open, but will add jobs.
Statewide
Capitolwire: Cawley's decision: Is fall GOP edge, 8 days of session, worth $200,000 and an uproar?
Pittsburgh
Post-Gazette: Alleghany County OK's borrowing
Post-Gazette: Pittsburgh City Council approves nonprofit contribution
Post-Gazette: Pippy turns attention to future
Southwest
Somerset Daily American: Commissioners approve audit of Tableland programs
Somerset Daily American: State provides less money, more flexibility in human services
NEPA
The Times-Tribune: Biden Returns Home
The Times-Tribune: Scranton to bill Obama/Biden campaign for costs associated with Vice President's visit
Editor's note: today's Buzz is abbreviated as a result of the holiday. We'll be back at 100 percent tomorrow.