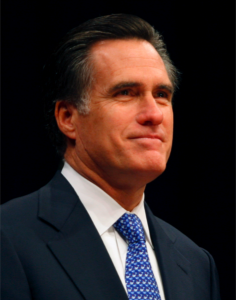 The AFL-CIO Super-PAC Workers' Voice is wielding darts at Romney for his dealings in the 2002 Olympics. The organization released both an online ad and a micro-targeted mailer Thursday which rip into Romney for using his position to steer money into Bain Capital subsidiaries and then stashing profits overseas to avoid taxes.
The $50K ad will be marketed in D.C., Ohio, Wisconsin, Michigan and Pennsylvania. The mailer will be sent to white males without college degrees and they expect it to reach 250K people.
In the same way that the Obama camp tries to invalidate Romney's primary qualification as a businessman by making him out to be blinded by wealth and greed, Workers' Voices is doing their darndest to muddy up his image as the hero of the Olympics.
As a means to this end, the super PAC is claiming that although Romney deserves credit for bailing out the Olympics, he deceptively used the job as an opportunity for personal financial gain.
The ad buy is centered around four featured facts meant to reveal the darker side of Romney's Olympic involvement.
The first fact: "While running the 2002 Olympic Games, Mitt Romney steered millions of dollars in Olympic contracts to Bain Capital subsidiaries that he owned, including Sealy Mattress, Domino's Pizza, and Marriott Hotels. "
Second: "Romney offered Office Depot a contract buy-out and a $1 million payoff so that he could give their Olympic contract to Staples, a Bain-owned company."
Third: "Romney took his Olympic profits and hid them overseas in the Cayman Islands and Swiss bank accounts to avoid paying taxes on them. He won't even release his records from running the 2002 Olympics to show us exactly how much he made off the Games."
And finally: "Mitt Romney asked a Wells Fargo and Co. executive to serve as the Mayor of Olympic Village. "
The online ad presents the same list of four "facts" along with a poll in which viewers can vote on which fact they believe is "the worst example of Mitt Romney's greed."
PA RNC spokesman Billy Pitman said trying to downplay Romney's role in the Olympics still has the Governor coming out on top in a record match-up against the President.
"Mitt Romney's record of turning the struggling Salt Lake City Olympics around stands in stark contrast to President Obama, who was busy in the Illinois State Senate at the time voting 'present.' Since they can't run on their own record, which has left us with 8.3 percent unemployment and anemic growth, the Obama campaign and their allies are forced to desperately lob false attacks instead."
A similar ad titled "Romney's Gold" was released by the super PAC Priorities USA Action preceding Romney's visit to London. That ad was yanked from the air, however, due to copyright infringement.
The PA AFL-CIO said their message is clear:
"As the Olympics head towards their conclusion we're reminding people that when he ran them, Romney went for all the gold.  It ties everything back to his record at Bain, where he always rigged the game, so that whatever happened he made millions."
Workers' Voice reports that a large proportion of the people in their target demographic have seen pro-Romney Olympics ads and generally move away from the GOP candidate when presented with the Olympics-Bain connection. They also said they are targeting small business owners or those living within communities hurt by outsourcing.
The mailer features a colorful, doctored photograph of Romney triumphantly raising an Olympic torch branded with the name of his company, Bain Capital. The words "Mitt Romney…Profiteer; Going for his own Personal Gold," span across the top of the flyer.
Here is the mailer: