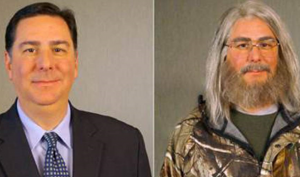 Bill Peduto, the Mayor of Pittsburgh, will appear on an episode of the CBS reality show, Undercover Boss, set to air on Sunday, December 21st at 8/7c.
Tim McNulty, a spokesman for Peduto, confirmed that the mayor interacted with city employees in disguise when the show was filmed earlier this fall.
"It's very limited what I can say because we're trying to preserve all of the surprise, McNulty said. "It brings the national spotlight to the city in its transformation and it puts the spotlight on city workers."
During his time on the show, Peduto worked as a refuse worker from Environmental Services collecting garbage, as a carpenter with the Housing Authority, and as an employee of the Forestry Division of the Department of Public Works.
According to the shows official website, Undercover Boss follows high-level corporate executives as they slip anonymously into rank-and-file of their own companies.