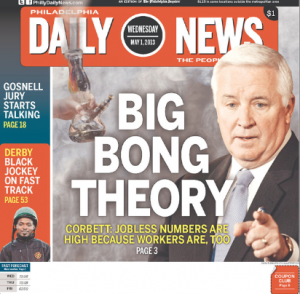 Applicants failing drug tests – or being unwilling to take them – is a genuine problem for employers, business leaders said Wednesday. They were defending Gov. Tom Corbett from an onslaught of criticism for citing drug tests as a factor in Pennsylvania's flat job growth rate.
"Asking me, 'do you hear this from employers?' is like asking 'is the sky blue?'" said David Taylor, Executive Director of the Pennsylvania Manufacturers' Association.
"A manufacturing firm has to go through hundreds of applicants just to get 4 or 5 or 6 hires."
He said it's not just that applicants fail the tests. It's that, on learning they are required, applicants walk away.
Pa. Chamber of Commerce President Gene Barr agrees. He told Fox 43, "We frequently hear from member companies that this is absolutely a problem for them. It is especially an issue for industries that have a zero tolerance policy on drug and alcohol use."
"The over-reaction to the governor's statement lends nothing to a reasoned debate," Barr said.
The statement Barr is referring to:
"There are many employers who say, look, we're looking for people but we can't find anybody that has passed a drug test, a lot of them," Corbett said during an interview with PAMatters.com.
He made the remark in the context of a broader conversation about why Pa.'s job growth rate lags other states and ways to boost manufacturing. (Why does the growth rate actually lag? It's complicated.)
Taylor said the issue was a real one, but not so big that it has a significant impact on the job market as a whole.
"I wouldn't connect this to the overall economic picture," Taylor said.
Democrats seized on the comment as proof yet again that Corbett looks down on out of work Pennsylvanians.
"Governor Corbett's response to his own failed leadership on the economy shifts between making excuses and blaming and insulting the people of Pennsylvania," said Congresswoman Allyson Schwartz (D-Montco). "Either way, Pennsylvanians know it's obviously time for a new governor."
She was the first 2014 gubernatorial candidate to respond to the remark.
Former DEP Secretary John Hanger was the second.
"As long as we have Tom Corbett as Governor, Pennsylvania is going to be in the middle a jobs crisis. He continues to govern under the influence of failed economic policies," he said.
"Gov. Corbett is regurgitating disparaging and unproven rumors as gospel truth. His statement about rampant drug abuse by unemployed Pennsylvanians and this abuse being the cause of the state's high unemployment rate misses the mark and ignores his failed economic policies and disastrous budget cuts," echoed state Sen. Mike Stack (D-Phila).
"Corbett's mud-slinging is another example of throwing the underdog under the bus while his fat-cat pals get a ride down easy street… Gov. Corbett is desperately looking for a scapegoat."
Here is the Hanger video:
http://youtu.be/tv1bXbfj6zE