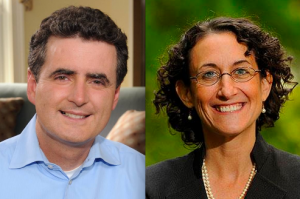 Saturday at the Social Security and Medicare Candidate Forum at the United Church of Christ in Levittown, Kathy Boockvar took questions from the audience while Congressman Mike Fitzpatrick's chair remained empty.
PA Working Families, Penn Action and the Pennsylvania Association of Staff, Nurses and Practitioners sponsored the event.
"I wish Congressman Fitzpatrick were here to have an open discussion," said Boockvar of the one-sided affair. "The voters deserve to see the side-by-side difference between the candidates and our visions for America."
One can hardly blame Fitzpatrick for not attending; PA Working Families routinely organizes protests of his district offices and PA-SNAP contributed $1,500 to Boockvar back in March. The event focused on Democrats' critiques of a budget authored by Rep. Paul Ryan (R-WI) and supported by Fitzpatrick.
Previously representing the 8th district from 2005 to 2007 Fitzpatrick was reelected to congress in 2010 after losing to Patrick Murphy in 2006. Representing moderate Bucks County plus a few municipalities in Montgomery County, he's Democrats' top target in Pa. in 2012.
Both campaigns are having an issue with scheduling and agreeing to debates. Bookvar's and Fitzpatrick's debate schedule do not totally line up. Declining locally based community organizations protest invites Fitzpatrick seems to be the candidate that looks guilty.
"It is unfair for the serious, locally-based community organizations to be used as pawns and ignored by the Boockvar campaign. Frankly, it's an embarrassment," wrote Faith Bender, Fitzpatrick's campaign manager, in a press release.
"Boockvar's respect for the process and local community is mortifying and shameful. It is a travesty that Boockvar is making a mockery of this long-standing and respected tradition in our community."
According to The Intelligencer, Boockvar has agreed to participate in debates sponsored by the League of Women Voters and the Bucks County Women's Advocacy Coalition on Sept. 17; AARP on Sept. 29; at Ohev Shalom Temple on Oct.14; and at Heritage Creek in Warwick, sponsored by the Bucks County Coalition of Senior Communities on Oct. 24.
Fitzpatrick has agreed to one debate each in upper, lower and central Bucks: on-air on WNPV radio in Lansdale an Oct. 17; a debate at Bucks County Community College on Oct. 25; and a debate sponsored by the Upper Bucks Chamber of Commerce, Central Bucks Chamber of Commerce and the Bucks County League of Women Voters at the Water Wheel Restaurant in Doylestown on Oct. 26. All three are buried in the middle of weekdays; at 12pm, 8am and 11am respectively, making it difficult or impossible for most voters to attend.
Jon Blair, Boockvar's campaign manager told The Intelligencer he had no record of receiving an invitation to the WNPV debate.
Update: Boockvar's campaign said she has been confirmed for the Water Wheel and the League of Women Voters debates for several weeks before Fitzpatrick.
Two years ago, Fitzpatrick called for one debate each week starting the day after he won the GOP primary to face then-Congressman Patrick Murphy. He similarly criticized Murphy for a lack of open, public town hall meetings. However, since June this year, he's avoided such events and stuck to events for private groups or conference calls.
Keegan Gibson contributed to this report.