Breaking: Penn State President Graham Spanier Fired & Coach Joe Paterno Fired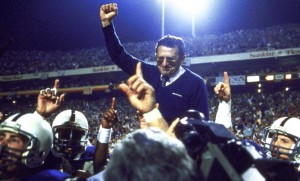 By Ali Carey, Contributing Writer
An ominous cloud has been cast over Pennsylvania with the release of a child sex abuse scandal at Penn State involving the university's former defensive coordinator Jerry Sandusky causing beloved Penn State football coach Joe Paterno to resign.
University president Graham Spanier has been removed from this position.  According to the Patriot-News, Penn State trusties are looking for Spanier's resignation, forced or voluntary.
JoePa, the once highly respected icon of Penn State football, announced Wednesday that he will resign as head coach at the end of the season.  Although, later this evening, the Board Of Trustees voted to fire him, effective immediately.
Paterno said he was "absolutely devastated" by the case, in which onetime heir apparent Sandusky had been charged of molesting eight boys over a period of 15 years, including at the Penn State football complex.
Critics blame Paterno for not notifying athletic director, Tim Curley and vice president, Gary Schultz after Mike McQueary told him in 2002 that he witnessed Sandusky in the Penn State showers with a 10-year-old boy.
In the statement, Paterno said: "I grieve for the children and their families, and I pray for their comfort and relief."
He went on: "I have come to work every day for the last 61 years with one clear goal in mind: To serve the best interests of this university and the young men who have been entrusted to my care. I have the same goal today.
In Harrisburg on Monday, Penn State athletic director Tim Curley and university vice president Gary Schultz were arraigned in District Court for charges of perjury and failure to report under Pennsylvania's child protective services law.
The allegations are a shock to Penn State fans who know Sandusky as an icon of  "Linebacker U.," helping legendary coach and Presidential Medal of Honor nominee JoePa score the most wins in Division I history.
According to a Pennsylvania grand jury report released Wednesday, Sandusky told a boy's mother in 1998 that he had showered with her son and with other boys but he wouldn't promise to stop.
Police in State College, Penn., listened to two conversations between Sandusky and the  11-year-old boy's mother, with her permission, after her son came home with his hair wet from showering with Sandusky.  At the end of their second conversation, Sandusky was told he could not see the boy anymore.
"I understand," State College Detective Ronald Schreffler testified Sandusky said. "I was wrong. I wish I could get forgiveness. I know I won't get it from you. I wish I were dead."
Despite continuing to claim he is innocent, Sandusky has since been charged of 40 criminal accounts, accusing him of molesting eight young boys between 1994 and 2009.
In response to the alarming allegations, Penn State's board of trusties announced late Tuesday night that it would appoint a special committee to conduct an investigation into the "circumstances" that resulted in the indictments of Sandusky, Curley and Schultz.
The committee will be appointed on Friday at the board's regular meeting, which Gov. Tom Corbett plans to attend.  On Wednesday Corbett, who spent years prosecuting child-sex crimes as the U.S. Attorney in Pittsburgh  and as Attorney General,  said he was "personally disappointed in the lack of action" by Penn State officials.
"He who preys on a child is the worst type of person in the world as far as I'm concerned," said Corbett.
"It's a sad day. It has been a sad number of days for Penn State. It's sad that it's taking place that way. But the board still has work to do," Corbett said.
Amidst a slue of unexpected resignations, Corbett declined to say if he believed the university President Graham Spanier should keep his job.  He also declined to second-guess the actions of then-graduate assistant Mike McQueary, who allegedly witnessed Sandusky sexually assaulting a young boy.
Corbett is hopeful that the university will be able to restore its reputation, but he emphasized that it won't be easy.  Corbett expects that more victims of Sandusky's alleged crimes will step forward.
"The board needs to act quickly and strongly as I said. The committee they have put together needs to be above reproach," Corbett said. "The board has a duty to its students, to the alumni, and to the citizens of Pennsylvania and to the future students. Penn State's a great university. We know that. Something not very good happen. But we have to maintain that they are a great university and take the bull by the horns."
On Wednesday, Senate Education Committee Chairman Jeffrey Piccola, R-Dauphin, whose panel has oversight of Penn State, reported he had not called for resignations by Spanier or Paterno.
Piccola underscored that the scandal has "stuck a chord with Pennsylvanians" and that the board of trustees has a "tremendous responsibility to take strong, bold decisive action" said Piccola.