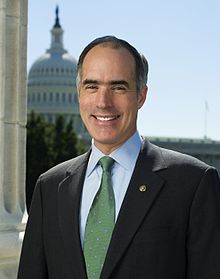 Senator Bob Casey (D-PA) visited Dunmore Middle School school in Lackawanna County today to speak about bullying and promote the Safe Schools Improvement Act (S.403).  The proposed bipartisan legislation would require schools receiving federal funding to enact codes of conduct that specially forbid bullying and harassment.
"Children deserve to go to school without fear or intimidation," Senator Casey said. "Bullying and harassment affect millions of students every year. This legislation will help ensure that we are providing children with a quality education that builds self-confidence."

Dunmore School District implements an anti-bullying program that combines small and large group instruction and counselling.  They also focus on the role of the bystander in bullying situations in order to promote students taking an active role in changing bullying culture.
Sen. Casey and Sen. Mark Kirk (R-IL) originally introduced the Safe Schools Improvement Act (SSIA) in March of 2011.  The bill died in committee after it was referred to the Committee on Health, Education, Labor, and Pensions.  Casey and Kirk revamped the bill and introduced it again on February 28th.
In addition to require the adoption of code of conducts that specifically address bullying and harassment, the act would require states to collect information on such incidents and report their findings to the Department of Education.  That data must also be available to the public in order to increase the awareness among parents and the community.
The Safe Schools Improvement Act of 2013 has been referred to the Committee on Health, Education, Labor, and Pensions, and is awaiting committee action.