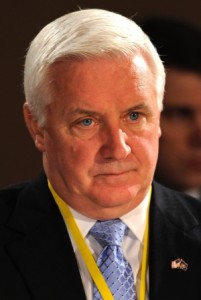 Governor Tom Corbett finds himself in the midst of a streak about as sad as that faced by the Philadelphia 76ers. For the ninth straight month, the Washington Post rated Gov. Corbett the number one most vulnerable governor in the 2014 midterm elections.
The Post's political blog The Fix published the following entry:
1. Pennsylvania (R): Gov. Tom Corbett (R) is still the most vulnerable governor in the country. A recent Quinnipiac poll showed voters said he doesn't deserve reelection by 55-34 percent. Former state revenue secretary Tom Wolf has emerged as the Democratic frontrunner, and he led the incumbent 52-33 in the same poll. Ouch. (Previous ranking: 1)
The state Democratic party was quick to pounce on Gov. Corbett.
"It's not a surprise. In fact, Tom Corbett doesn't even seem to be shocked by his own grim reelection chances," said PA Democratic Party Deputy Press Secretary Beth Melena. "That's probably why he went up with a new ad today, which makes a total of 9 Corbett radio or television ads that have been aired. That's some pretty hefty air time for an incumbent governor eight months out from a general election. But desperate times do call for desperate measures…"
Democratic candidates for Governor include former Department of Revenue Secretary Tom Wolf, State Treasurer Rob McCord, Congresswoman Allyson Schwartz and former DEP Secretary Katie McGinty.