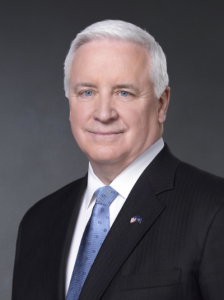 Governor Tom Corbett's administration has officially nixed the job search requirement from his Healthy PA Medicaid proposal.
The governor, who has rejected the expansion of Medicaid in favor subsidizing commercial insurance plans, had originally pushed to make the job search program a necessary step for low-income Pa. citizens to qualify for coverage. The idea being that Medicaid benefits would be seen as a "transitional benefit" that would help those who need it only up until they were steadily employed, Corbett told the Philadelphia Inquirer.
The Governor is instead pursuing a voluntary "Encouraging Employment" plan, according to a letter he sent to HHS Secretary Kathleen Sebelius. The move is likely an attempt to increase Healthy PA's chances of federal acceptance. Proposals by Arkansas and Iowa to allow the Medicaid funds to be used for private insurance plans have been approved but they didn't contain any sort of precondition like the job search requirement.
Healthy PA is still waiting for federal approval.
Antoinette Kraus, Director of the Pennsylvania Health Access Network, said that she was pleased to hear that the job search requirement has been thrown out.
"We are glad to see the Corbett Administration address the unnecessary burden that would have been placed on Pennsylvania taxpayers  with a work search requirement," Kraus said. "The work search requirement is one of the many provisions that were most troubling to health advocates. It is reassuring to know Pennsylvania is continuing to take steps on the path to securing coverage for hundreds of thousands of working families."
But Kraus still believes that Corbett's plan needs furthering tinkering.
"However, Healthy PA still includes unnecessary, dangerous cuts that will hurt seniors, people with disabilities, and pregnant women who currently rely on Medicaid coverage," she asserted. "Healthy PA will not only cut services our seniors and other vulnerable Pennsylvanians depend on, it also comes at a greater costs to taxpayers than accepting the Medicaid expansion opportunity offered by health care reform."
SEIU Healthcare Pennsylvania's President Neal Bisno echoes Kraus's sentiments.
"We are pleased that the Corbett Administration has listened to the thousands of voices calling for Medicaid Expansion and has taken us a step closer to ensuring the approval of expanded access for uninsured Pennsylvanians," he stated. "Although we are encouraged by this positive step, we are equally concerned by Healthy PA's proposed cuts to the Medicaid program that would adversely impact seniors, people with disabilities and lower-income Pennsylvanians.
"We continue to call on the Corbett Administration to eliminate all barriers to healthcare access – reduced benefits, increased costs, and punitive lock-out periods," Bisno added.