Only two weeks into the New Year, Governor Tom Corbett has exclusively appeared on numerous Pa. TV news and radio stations, engaging potential voters and actively defending his term, NCAA suit, and laying out political strategy for 2013.
It's a shift for Corbett, who has been criticized (even by Republicans) for not doing enough to advocate for himself and his policies.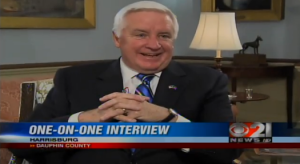 The common refrain: he's not a good salesman. And many attribute his low approval ratings (38 percent positive, 52 percent negative in the latest PPP poll).
He's making an effort to change that. He's done roughly two dozen sit down interviews so far in 2013. Those follow three group sit down interviews between Corbett and the entire Capitol press corps in late 2012.
One-on-one interviews have facilitated Corbett's effort to connect with Pennsylvanians who get their news from television and radio. In interviews with ABC16, WMFZ, Pittsburgh's KDKA Radio, and Radio Smart Talk among others, Corbett spoke out about his decision to sue the NCAA, an action he defended as something that will benefit the entire state.
Spokesman Kevin Harley disputed the premise that the Governor has not been an active salesman, noting that he conducted 160, "media events, news conferences, speeches or other events where the media is invited and he takes and answers their questions."
"By comparison, in Rendell's second year he held 134 such media events," he said. That's on top of 163 one on one interviews, Harley said, and thousands of press releases and social media updates.
But there's a difference so far in 2013: Corbett's not just giving interviews, he is seeking them out. Several of the reporters who sat down with the Governor recently told PoliticsPA that his office reached out to schedule them. And they're happening at a faster pace.
It's no secret why. While the majority of Corbett's interviews have delved into the pending lawsuit, they have helped humanize the Governor, too. In an a second segment by CBS21, for example, he spoke about personal topics like his family, his dogs, the Pennsylvania Farm Show, and New Year's resolutions (lose weight).
In segments with ABC27, CBS21, FOX43, Corbett emphasized his time in office as a time of job growth and balanced budgets.
In addition, the Governor commented on the need to privatize the lottery, addressed his support for Marcellus shale development and alluded to his intent to improve transportation and pension plans in the coming year.
Keegan Gibson contributed to this report.