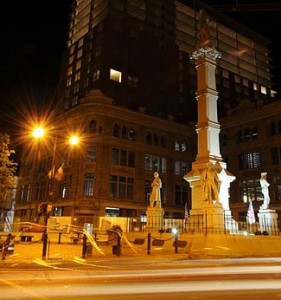 This weekend is one Democratic operatives and activists from across PA have been waiting for. It's the Pa. Democratic State Committee meeting, and as always PoliticsPA is here to bring you the coverage.
The summer meeting will take place at the County Convention Center & Marriott in Penn Square, downtown Lancaster.
Dems can expect to be bombarded by the 2014 primary candidates for Governor. There are a plethora of events by the major hopefuls, work-shopping, policy meetings and partying.
There will no doubt be scheming aplenty on how to make Governor Corbett a one term Governor.
Here's the schedule of events:
Friday, June 13th
Tom Wolf Hospitality event – Buffet and Beverages
5:30 pm to 7:00 pm
Outside of Freedom Hall
Wolf is the business and former Secretary of Revenue who has pledged $10 million to his campaign for Governor.
PA Dem Party Summer Social – Cocktails and Dessert Party
7:30 pm to 9:30 pm
Commonwealth Salon 3 & 4
This is the main event of the evening, hosted by party Chairman Jim Burn along with the Lancaster County Democratic Committee, Lancaster Mayor Rick Gray, and Representative Mike Sturla (D-Lanc). It's being sponsored by gubernatorial candidates John Hanger, former DEP Sec. Katie McGinty, Max Myers, Tom Wolf and Congresswoman Allyson Schwartz.
Allentown Mayor Ed Pawlowski, who has floated interest in a run but not declared, is also a sponsor. As are Democratic Nominee for Superior Court, Jack McVay, SEIU 668 and AFSCME Council 13.
Max Myers for Governor Reception
9:30 pm
Hotel Lobby
The Cumberland County minister will offer more good times (and complimentary bottles of wine).
John Hanger for Governor Reception
9:30-11:00 pm
Commonwealth Salons 1 and 2
Hanger is a former Secretary of Environmental Protection and was the first announced candidate for Governor.
Keystone Progress Rocks the State Committee Reception
9:30 pm
Vine Room
Keystone Progress will be hosting a dance party with Senator Bob Casey. It will include food, live music, and an award to Senator Casey for his support of marriage equality.
Saturday, June 14th
Constituency Caucuses
8:00 am to 9:00 am
Standing Committees and Senior Caucus
9:00 am to 10:00 am
Exec Board
10:00 am to 10:30 am
County Chairs Meeting
10:30 am to 11:30 am
Regional Caucuses
11:30 am to 12:30 pm
State Committee Meeting
1:00 pm
Commonwealth Ballroom