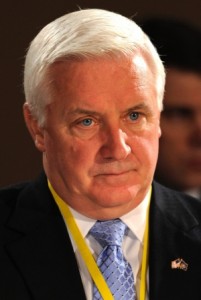 The Pa. Democratic Party filed an ethics complaint against Tom Corbett Tuesday, a few hours after the Philadelphia Daily News published a story about the Governor's $11,343 in gifts from businessmen and lobbyists.
As DN writer Will Bunch reported, on top of Penguins tickets, Corbett and his wife received "Steelers playoffs tickets, private jet travel, seats at a swank gala for the Philadelphia Orchestra, a Rhode Island summer vacation aboard a businessman's yacht – even money to help pay for the first lady's inauguration gown." All came from a variety of personal benefactors in 2010 and 2011, and were reported in the Governor's disclosure forms.
The Pa. Dems weren't satisfied with the disclosure. Their complaint to the Ethics Commission accompanies "a request for an investigation regarding acceptance of gifts by Governor Tom Corbett and the possible improper influence conduced by Governor Corbett and the Corbett administration after receiving such gifts."
A spokesperson flatly rejected the suggestion of impropriety to the DN:
"Governor Corbett has been clear that he makes all decisions based on what is in the best interests of Pennsylvanians," said Kelli Roberts, his deputy press secretary. "He has always fully complied with both the letter and the spirit of our state's financial-reporting laws. His campaign-finance report and his state ethics reports are both public documents, placed on a state website for all to see. The governor's actions have always been, and will continue to be, transparent and free of any conflict of interest."
As the DN further noted, Gov. Ed Rendell accepted a $1,000 Super Bowl ticket from the Steelers in 2009 and eight Billy Joel concert tickets from the owners of Hersheypark.
In any case it's a good day for the party, whose top objective for the next 20 months is to dog Corbett mercilessly. Even if the Ethics Commission declines to investigate, as seems likely given the Governor's forthright disclosure and the relative small amount of the gifts, it's still a tough headline for the Republican incumbent.
It's a good day, that is, unless you're a Democrat in Philly. There, as the Pittsburgh Tribune Review reported, two Dem lawmakers took lumps for their use of taxpayer dollars. State Rep, Dwight Evans spends $644 per month to lease his state-paid car and Sen. Mike Stack has spent $600 on car washes over the past two years.