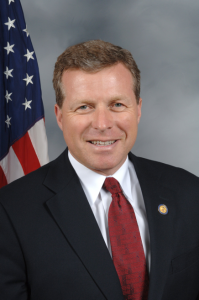 Rep. Charlie Dent (R-Lehigh) is known as a moderate on social issues, abortion in particular.
Today he slammed Republican colleagues over their decision to move forward on a bill that would implement a nationwide ban on abortions after 20 weeks, even in cases of rape and incest.
"I'll be very frank: I discouraged our leadership from bringing this to a vote on the floor," Dent told CQ Roll Call. "Clearly the economy is on everyone's minds, we're seeing very stagnant job numbers, confidence in the institution of government is eroding and now we're going to have a debate on rape and abortion."
"The stupidity is simply staggering," he said.
The bill in question is a measure sponsored by Rep. Trent Franks (R-AZ), who brought up a similar bill last year that only applied to the District of Columbia. Dent was one of only six Republicans to vote against it. He has also opposed measures to defund Planned Parenthood. But he supported a measure to restrict coverage of abortions by federally-subsidized insurance under the Affordable Care Act.
Franks was talking about the bill earlier this week when he asserted that, "The incidence of rape resulting in pregnancy are very low". The remark that drew immediate comparisons to Missouri Senate hopeful Todd Akin, who said in 2012 that victims of "legitimate rape" could not get pregnant.
Neither man is correct; data compiled by the Washington Post show the rate of pregnancy from rape is comparable to the rate of pregnancy from consensual intercourse.
Dent won re-election with 57% of the vote last year. Now that his district is more GOP-friendly, he faces at least an equal threat from a pro-life Republican as he does from a pro-choice Democrat.