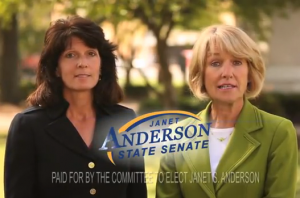 State Senate hopeful Janet Anderson's third television ad is on the air and it draws heavily upon the endorsement of retiring Sen. Jane Earll (R-Erie). Straight to camera, the popular four-term Senator touts Anderson's 26 years of experience and bipartisan stance.
"Janet will be an independent voice willing to stand up to either party when they are wrong and work together to achieve results," Earll says.
The 49th district seat is the top state Senate race in Pa. in 2012. It's likely just a matter of time before Anderson's campaign debuts its Tom Ridge version of the ad (Anderson formerly worked for each).
Earll speaks for the bulk of the ad, delivering a glowing review of Anderson's credentials. A Republican, she was able to hold onto the Democratic-leaning Senate seat because of her personal popularity and a moderate voting record – a style that Anderson hopes to emulate.
"It doesn't matter what party they're affiliated with. You get the job done," Anderson said in an earlier television ad which first aired August 28th.
Donning a hard hat at a construction site in the background of the ad, Anderson sends the message that she is able to stand up to both parties in order to pass along her hard hat to others who are in need of employment.
Democrat Sean Wiley's campaign has taken Anderson's bipartisan claim differently.
"We can only assume that the Senator filmed this commercial because Anderson was briefly her employee and the Senator is, not surprisingly, supporting a fellow Republican candidate," said Wiley campaign manager Scott McLean.
Facing stiff competition, Anderson's fight for the 49th Senate district will not be an easy one. On September 4th, an internal poll conducted for Wiley's campaign by the firm Thirty-Ninth Street Strategies in Washington, D.C. showed that Wiley led Anderson with 51 percent over her 33 percent.
Though the numbers come from an internal poll, they are nonetheless indicative of the uphill battle Anderson will have to face if she wishes to take a Senate seat in Harrisburg later this fall.
Her effort to convince voters that she is the candidate best equipped to create jobs – and communicate that message – will be a key factor this fall.