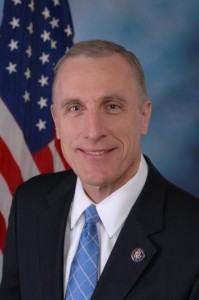 Now it's personal. With less than a week to go until primary day, Evan Feinberg's campaign released a radio ad accusing Rep. Tim Murphy of being a Cleveland fan.
Listen to it here. It's airing on 93.7 the Fan, Pittsburgh's sports radio station. It comes just a day after the Democratic Congressional Campaign Committee accused Murphy of voting for a tax break for the New England Patriots.
The ad calls Murphy as a "liberal" who not only supports "Obama priorities" but is also a native of Cleveland, Ohio – which by default likely makes him an enemy Browns and Indians fan and unfit for office in Pittsburgh.
"Liberal Congressman Tim Murphy didn't grow up in Pittsburgh. In fact, he grew up in Cleveland, Ohio, probably rooting for the Browns and Indians. No wonder he votes for Obama priorities like 'cash for clunkers.'"
Zing!
"Evan Feinberg is a Steelers season ticket holder who bleeds black and gold. He grew up idolizing Mario Lemieux, and has always remained a die-hard Pirates fan, a true sign of character," the ad states.
"In addition to standing by Pittsburgh sports, Evan Feinberg supports the conservative values of Western Pennsylvania.  He is pro-life, pro-second amendment and a fiscal conservative."
Murphy was born in Cleveland and moved to southwestern Pa. in the 1970s when he pursued his Ph.D. in psychology from the University of Pittsburgh.
"There's a good reason why Congressman Murphy was born in Cleveland: that's where his mother was at the time and he wanted to be with her on that special occasion," joked Murphy campaign manager James Genovese.
"Look, Murphy moved to Pittsburgh in 1976 and in the past 36 years he's raised a family here, worked at Children's, Magee and Mercy hospitals then moved on to open his own private practice in the South Hills. The Congressman has volunteered thousands of hours in community service here through Rotary Club, Habitat for Humanity, churches and other local organizations, as well as serving as Lt. Commander in the US Navy Reserve Medical Service Corps working with wounded warriors.  Murphy was elected to represent this region in the state Senate and now in Congress, Murphy is Southwestern Pennsylvania's voice for our conservative values."
"In comparison, Evan Feinberg just bought a home here in December to run for office. Feinberg hasn't worked here, hasn't paid taxes here, hasn't even voted here in years."
Feinberg was born and raised in Peters Township in Washington County, but spent most of the past five years living and working in Washington, DC.
For the record, Murphy is a Steelers fan.