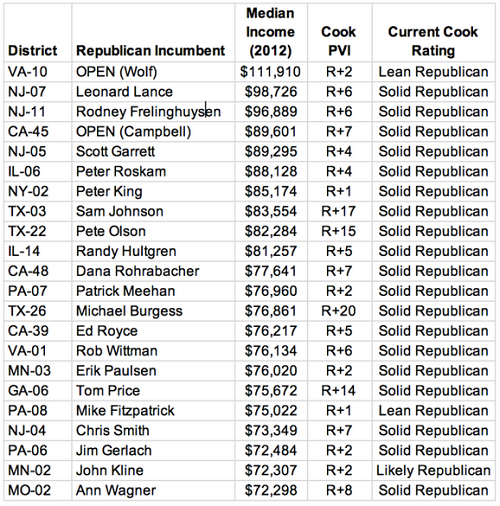 Pennsylvania's southeastern suburbs are part of an intriguing analysis from David Wasserman in the rebirth of Nate Silver's website FiveThirtyEight.
Wasserman's article is premised on Terry McAuliffe's 2013 victory in Virginia's gubernatorial election and the author's conclusion that McAuliffe prevailed not so much from increased turnout from Democrats but by splitting the votes of wealthy voters in the northern part of the state.
According to Wasserman, Democrats should therefore focus on the "Super Zips", or high-income, congressional districts in the 2014 midterms.
Currently, 22 of the 50 highest-income districts are held by Republicans. Among these are all three of Philadelphia's "collar county" districts: PA-6, PA-7, and PA-8.
Interestingly, of those 22 only two are rated as competitive by the Cook Political Report, the nonpartisan and highly-regarded website (where Wasserman also works). These "Lean Republican" districts are Virginia's open 10th Congressional District and PA Rep. Mike Fitzpatrick's Eighth District.
So for Fitzpatrick's Democratic opponents Kevin Strouse and Shaughnessy Naughton, McAuliffe can stand as an electoral example, while failed Virginia gubernatorial candidate Ken Cuccinelli should serve as a cautionary tale for Congressman Mike Fitzpatrick.