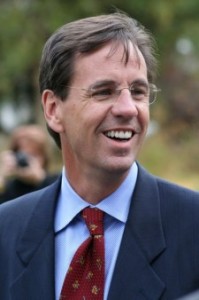 Former State Rep. Shawn Flaherty confirmed to PoliticsPA that he is considering a run against Randy Vulakovich (R-Allegheny) for state Senate in 2014.
"It's something I'm interested in," he said.
Incumbent Democrat Jim Ferlo, who would have faced a contest with Vulakovich due to redistricting, announced he plans not to run next year.
Flaherty represented the 30th legislative district briefly in 2006 when he won a special election to fill Jeff Habay's resignation amidst an ethics scandal.
If Flaherty were to enter the race, it would be his second time facing Vulakovich, who defeated him by 6 points in the 2006 general election.
Vulakovich represented the district until 2012 when he was elected to fill the 40th senatorial district seat, vacated by Jane Orie's scandalous resignation.
Since 2006, Flaherty been a practicing attorney at the law firm of Flaherty Fardo and was rumored earlier this year to be a potential Lieutenant Governor candidate. Flaherty is the oldest son of former Pittsburgh Mayor Pete Flaherty.
He serves on both the Allegheny County Library Board and the Pittsburgh Economic Development Board.  He lives in the Fox Chapel area, which is part of the new 38th senatorial district.
Flaherty said he will make his final decision on the run after the first of this year, after he considers the dynamics of the new district and examines the Democratic field.
He said in no unclear terms stated that he will not run in a primary against PA Democratic Party Chairman Jim Burn, another potential candidate in the race.
"I have no intention of running against Jim Burn," Flaherty said.
Vulakovich spent 27 years as a police officer in the North Hills. He has voted mostly along party lines since his election to the state Senate, but maintains good relationships with Democrats and labor unions in the district.