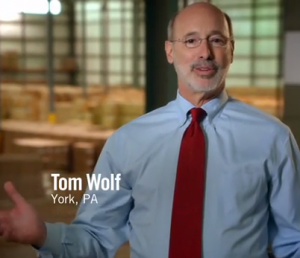 Tom Wolf maintains a double-digit lead in the latest poll from Franklin & Marshall College Polling.
Wolf takes 37% among likely voters, compared to his closest competitor, Allyson Schwartz who won 20%, followed by Rob McCord at 12% and Katie McGinty at 3%.
39% of all registered Democrats remain undecided.
Not only is the Wolf lead wide, but it's also solid. According to the poll, half of Wolf (54%) and Schwartz (52%) voters report they are "certain" to vote for their candidates, giving them more certain voters than McCord (40%) or McGinty (26%).
By the beginning of May, more than four in five (83%) registered Democrats have seen a television commercial for governor. Most (93%) of these respondents have seen a Wolf advertisement, but McCord (67%), Schwartz (61%), and McGinty (44%) ads have also been seen.
Despite the negativity directed at Wolf in the latest advertisements of Schwartz and McCord, his favorability has improved. He is viewed 49% favorable and just 8% unfavorable; 43% are undecided or don't know.
After Wolf, there's a significant drop-off in favorability. Schwartz is viewed 30% favorable to 12% unfavorable; McCord is 21% favorable, 14% unfavorable; and McGinty is 14% favorable, 3% unfavorable.
Wolf's lead is also consistent across demographic groups, including age, religion and gender. One area where a competitor catches up is ideology. Schwartz ties Wolf among self-identified liberals, each scoring 25% of their vote.
Overall, it's a shrink in his lead since the last F&M poll back in April, but nothing to cause concern for Wolf's frontrunner status a mere six days before the election. In April, he took 33% – 26 points more than his closest opponent. Schwartz earned 7%, McCord took 6% and McGinty won 4%.
The survey findings presented in this release are based on the results of interviews conducted May 6 – 12, 2014. The interviews were conducted at the Center for Opinion Research at Franklin & Marshall College under the direction of the poll's Director Dr. G. Terry Madonna, Head Methodologist Berwood Yost, and Project Manager Jacqueline Redman. The data included in this release represent the responses of 530 registered Democratic voters in Pennsylvania. The sample of registered voters was obtained from Voter Contact Services. Survey results were weighted (region and gender) using an iterative weighting algorithm to reflect the known distribution of those characteristics as reported by the Pennsylvania Department of State.
The sample error for this survey is +/- 4.3 percentage points.