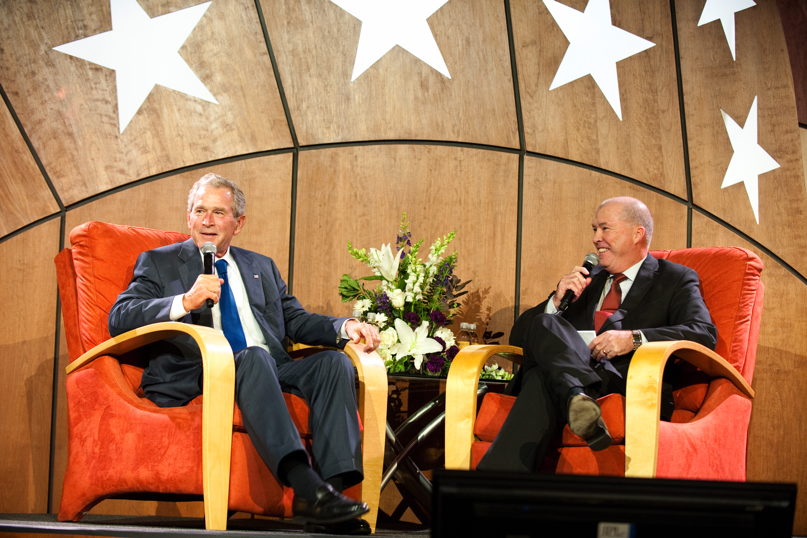 By Ali Carey and Keegan Gibson
Gene Barr may not technically begin his position as President of the PA Chamber of Commerce President until next week, but he's already rubbing elbows with a former president.
On Tuesday night former President George W. Bush delivered the keynote address at the 27th Annual Pennsylvania Chamber of Business and Industry Dinner.  Following Bush's 30-minute speech, Barr moderated a question and answer session with the President.
Barr is currently the PA Chamber Vice President and will officially assume his new title on October 1st.
Barr, who met Bush for the first time on Wednesday, was most grateful for the experience.
"It was just a phenomenal opportunity to have he and I and a couple of secret service guys in a room together.  It was great.  Other people say that it's a little bit like talking to your next door neighbor.  I know it sounds a bit cliche but that's exactly it," Barr said.
Barr and Bush spent about 20 minutes together before Bush delivered his speech.  They talked baseball and Barr described Bush as "very nice and relaxed."  Barr was taken aback by Bush's easy-going attitude and "tremendous sense of humor."
"He was clearly a real person and it's hard to be president and be a real person when you're surrounded by so many secret service, so it was nice to sit down and talk to him,"  said Barr.
Barr found it laudable that Bush wanted to avoid criticizing President Obama.  Bush specifically told Barr that he didn't want to talk about federal health care.  According to Barr, the attendees didn't want to listen to Bush bash Obama either.
"People wanted to hear about about what it was like on a daily basis, what were the decision points that George Bush as president had to make, and that's what he talked about.  It was humorous.  It was insightful and he reflected back on history.  It was just a tremendous speech," said Barr.
Barr called the event an "unqualified success" and he was sure to congratulate and thank all of the people from the PA Chamber of Commerce that made the event possible.
"There are so many people in this building who worked literally for months to pull this all together, to put 1,800 people in a room, to do all the necessary logistics.  To have all of that happen clearly isn't by accident," raved Barr.
Barr graduated from St. Joseph's Univeristy in 1997, and spent most of his career in the energy industry. He spent a number of years at various BP locations in different parts of the country, then started with the American Petroleum Institute's Pennsylvania office where he eventually rose to Executive Director. He joined the Chamber in 2003.
In terms of what Pennsylvanians can expect this fall, Barr talked about the PA Chamber of Commerce's legislative priorities.
"We're going to continue to do what we need to do, which is to represent our members in the general business community.  To accomplish things that will hopefully move this economy forward.  We firmly believe and have believed and will continue to believe that allowing the private sector to make decisions that they can, with the appropriate safe guards, no one's saying let business run amok.  What we're saying is 'Mind those things that are good for consumers, for the environment for environmental health and safety and trust the private sector.'"
Barr reiterated that we need to "trust the private sector to build the economy" and he spoke of PA having a "phenomenal opportunity to be a leader in the US on energy with Marcellus."
As PA Chamber of Commerce President, Barr has set his sights high.  He plans to address education reform, transportation, infrastructure spending, unemployment compensation and worker's compensation.
"Is it ambitious? Yea it's ambitious and of course folks across the street in the House and the Senate have their own agenda and we're going to try and identify those allies and try to pass things and move forward to help jobs and the economy in PA," Barr said.