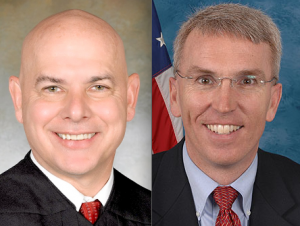 A former U.S. Congressman is running for county judge in one of the hottest races of south central Pa. He faces a very formidable opponent in the sitting incumbent.
Looking to top off a career in politics that began in November 1992 when he was elected to the Pa. House of Representatives and most recently included 12 years of service in Congress (constrained by a self-imposed term limit) former Rep. Todd Platts is running for a seat on York County Court of Common Pleas.
But there's a catch.
The job is filled, and Judge Michael Flannelly shows no intention of giving it up without contest. The May 21st primary for the judgeship is anything but a cinch for Platts, who is probably the county's best-known elected official.
He cruised to re-election with 70% of the vote in the 2010 primary and 72% in the general.
With all of its peculiarities, the race is reminiscent of the off-the-wall plot of the film Welcome to Mooseport.
The obscure 2004 film follows the former President as he runs for mayor in a small Maine town. He ends up facing the most difficult campaign his career.
Welcome to York County.
Flannelly transitioned into the job ten months ago to replace the late Judge Chuck Patterson. Flannelly, former York County solicitor, had run for Judge three times over the past decade, unsuccessful in each attempt. Now, he finds himself running for re-election against a six-term Congressman.
The situation is unusual in county judicial races, in which sitting judges typically seek retention via a simple "yes" or "no" vote.
Flannelly's seat is officially vacant in terms of how a judge will be elected. Instead of an up or down vote, since Flannelly is not officially seeking retention, the judgeship will be contested like a conventional election.
Making things more interesting, the York County Bar Association rated Flannelly as "highly qualified" for the job. Platts, meanwhile, received a rating of "not presently qualified".
On top of that, Flannelly has a fundraising edge in the race.
The race he reopened old fault lines between Platts – who amassed a moderate voting records relative to his deep red congressional district – and conservatives who opposed him in the past.
Enter Scott Wagner, a businessman who owns Penn Waste (and advertises on PoliticsPA). He has supported past efforts to defeat Platts and is doing so again this year.
According to the York Daily Record, Flannelly raised about $121,000 from April 2 to May 6, plus an $11,000 contribution from Wagner last Thursday. All told, he has contributed a total of $131,292 to Flannelly's campaign.
Flannelly had $17,321 cash-on-hand as of his most recent report last week.
From January 1 to May 6, Platts raised $35,143 and had $16,079 cash-on-hand as of filing.
The county's two biggest newspapers have split in the race. The York Daily Record endorsed Platts, citing his positions on campaign finance and the fact that Flannelly's campaign is funded largely by Wagner. Flannelly got the backing from the York Dispatch on Tuesday, which focused on his legal experience. Both papers have published dozens of letters to the editor in the race.
"Legal practice is critical to a Judge being effective," Flannelly told PoliticsPA. He cites his 30 years of legal experience in defending his qualifications. Despite his previous bids, however, Flannelly feels good about the race. "I've received positive feedback from the community," he said. "I'm optimistic."
He also defends the contributions from Scott Wagner, saying that he "[started] from scratch" and didn't have an "excel spreadsheet" of donors to begin with.
But, despite all this, Platts is not deterred.
While it's a bit unconventional for a Congressman to run for local office, Platts says his self-imposed term limit did not end his desire to serve.
"It's about service," he told PoliticsPA. "I've devoted my adult life to doing that. I've devoted my professional life to giving back."
He argues that his Congressional experience and certification as a lawyer, despite Flannelly's protestations, offers a "unique combination of qualifications" for the job and after being a lawmaker, he'd like to "come home and reinvest back into the community as a judge," by applying the laws he helped create.
Platts boasted his support from the Local 15 and Local 73 police unions and said he is not deterred by the bar association's recommendation of Flannelly.
"The bar poll did not allow me the opportunity to interact with the members [of the bar association]," he said, citing the fact that he is not a member and arguing that they are not familiar with his qualifications. "I respect their right to an opinion," Platts said, "but it's no surprise that they'd endorse one of their own."
Flannelly is a member of the bar association.
In the end, Platts said he does not believe the race will come down to endorsements or recommendations.
"The people will decide who will serve on the common pleas court," he said.
It wouldn't be fair to compare Platts and Flannelly to the main characters of a decade-old comedy movie, and both men undoubtedly agree that the race for the judgeship is nothing to joke about. But the campaign is an intriguing political musing: a politician seeking office at a lower level rather than a higher one—and facing serious competition while doing so.
At the very least, it makes for an interesting race.