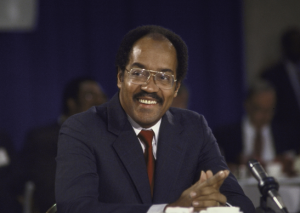 Philadelphia icon and former U.S. Congressman Bill Gray died Monday at 71, according to a family spokesperson.
Gray was attending the Wimbledon tennis championships in London when he suddenly died from natural causes. The spokesperson said that Gray was in good health and had not shown any symptoms of illness.
President Obama praised Gray in a statement.
"Bill Gray was a trailblazer, proudly representing his beloved Philadelphia in Congress for over a decade as the first African-American to chair the Budget Committee and to serve as the Majority Whip," Obama said. "Bill's extraordinary leadership, on issues from housing to transportation to supporting efforts that ended Apartheid in South Africa, made our communities, our country and our world a more just place. Michelle and I extend our deepest sympathies to Bill's family, especially to his wife Andrea and their three sons."
Gray, a minister at Bright Hope Baptist Church for more than 40 years, was elected to congress in 1978. He served Pennsylvania's 2nd congressional district until 1991.
As a congressman, Gray was an outspoken figure in congress against apartheid in South Africa.
Following his career in congress, Gray served as the president of the United Negro College Fund.
"I am deeply saddened to learn of the passing of former Congressman Bill Gray," Senator Bob Casey said in a statement. "As a member of Congress, he was a tireless advocate for the people of Philadelphia and a trailblazer for a new generation of African American elected officials. My thoughts and prayers are with Congressman Gray's family."
Philadelphia Mayor Michael Nutter ordered the flags at half-staff Tuesday to honor Gray and his service to the city.
"I am truly stunned, saddened and hurt by the loss of this great man who was so influential in my own growth as a public servant as well as dozens of other Philadelphians, particularly in the African American community," Nutter said in a statement. "Bill Gray was also a unifying force bringing together a multi-racial coalition to work in the best interests of all Philadelphians. Bill's passing is a dramatic and significant loss for Philadelphia, the Commonwealth and the nation he served with honor and distinction."
Senator Pat Toomey's office also released a statement this morning.
"Rep. Gray's leadership as both a Member of Congress and as a pastor has left an indelible mark on generations of public servants," the statement read. "In particular, Rep. Gray was a pillar of Philadelphia's African American community and will be fondly remembered as a mentor to men and women who sought to serve their communities. Kris and I will keep Rep. Gray's family in our prayers."
Gray leaves behind a wife and three sons.