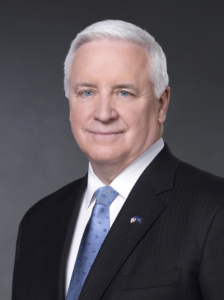 Gov. Tom Corbett responded to accusations from several teachers unions regarding the underfunding of Philadelphia public schools, which they allege may have led to the death of a 7-year old boy.
"It's inexcusable that you decided to use this as yet another opportunity to grandstand and make a political statement when you, as the union leaders, continue to fail to engage in meaningful negotiations," Gov. Corbett wrote in response to a public letter co-written by the American Federation of Teachers (AFT), Philadelphia Federation of Teachers (PFT), and the Pennsylvania AFT.
The letter blames the death of 7-year old Sebastian Gerena on insufficient education funding. Gerena died on Wednesday at Andrew Jackson Elementary School in Philadelphia due to a rare congenital heart defect.
"The last time we wrote, the Philadelphia community was grieving the loss of Laporshia Massey, a 12-year-old who died from asthma complications that started at school. Today, tragically, we grieve once more," the union letter to Corbett stated. "Again, a child has been stolen from us much too soon—this time a 7-year-old from Jackson Elementary School. Again, there was no school nurse on site."
The union pointed to the Governor's supposed slashing of school funding by $1 billion and his decision to reject Medicaid funding. According to the teachers unions, the number of nurses in Philadelphia public schools has declined from 289 to 179 since Corbett was elected in 2011. Moreover, the unions say that nurses are stretched thin–working at "five or six" schools at a time.
"We don't know if a school nurse could have saved this young boy," they write. "But we do know every child deserves a full-time nurse in his or her school. We do know all parents deserve to know that their child will be safe and his or her most basic needs will be tended to at school. We do know that all Philadelphia children deserve better."
"Mr. Governor, we cannot tolerate one more life lost, one more dream snatched from our children. You have the power to fix what you have broken. Restore full and fair funding to all Pennsylvania schools. And do it now."
The Governor took offense to these claims and expressed his concern that the union would in his eyes politicize such an event.
"I am deeply troubled that the union leadership of the Philadelphia Federation of Teachers – and by extension the American Federation of Teachers – would use the recent tragedy at Andrew Jackson Elementary School as an opportunity to make a political statement and to further your self-serving agenda," Corbett responded.
The governor attempted to depoliticize Gerena's death, saying, "There is an appropriate time and place to call for education policy discussions."
Education funding was hot topic in the Democratic Primary, and it is sure to be discussed further as Gov. Corbett faces nominee Tom Wolf in the general election.