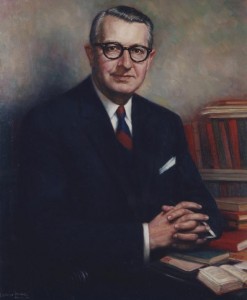 The 36th Governor of Pennsylvania George Leader, who rose to power out of a one-room agrarian schoolhouse in York county, died today. He was 95.
Leader served four years as the top of Pennsylvania's executive from 1955 to 1959 — abiding by the single-four-year term limit at the time. Only 37 when he took office over a half-century ago, Leader is still the second-youngest governor in the state's history.
While in office, Leader overhauled the state's mental health system and increased funding to education. Leader was a fierce civil rights supporter and became the first governor to appoint a black cabinet officer.
Leader died this morning at 5 a.m. at his home in Country Meadows Nursing Home with two grandchildren by his side, his spokeswoman Kelly Kuntz said to the AP.
"Up until two weeks ago he was still going to work," Kuntz said. "Gov. Leader lived a very full, active life."
Leader grew up on a small-chicken farm in York County. He would later attend Gettysburg College before transferring to the University of Pennsylvania. After returning from World War II in 1950, Leader burst onto the political scene, winning a Pennsylvania State Senate seat in the 28th District which includes York and Red Lion.
Leader would go on to defeat Lt. Governor Lloyd Wood in a close election for governor, carrying the labor and agricultural interests to become the first Democrat to win the PA governorship in 20 years.
"The Democratic Party of York County was saddened to learn of the passing of former Pennsylvania Governor George M. Leader," said Chad Baker, a spokesman for the York Democratic Party. "Before, during and after his term as Governor, George Leader inspired an unknowable number of Democratic voters and candidates in York County. His was a life well-lived. His passing is a loss that will be felt in York County and across the entire Commonwealth."
Leader had been the earliest serving governor of any state still living. Governor Corbett ordered all Pennsylvania flags lowered to half-staff today in Leader's honor.
"He became a friend during my tenure as Governor," Corbett said. "I looked to him as somebody I could talk to about the role of Governor."
Hoover Funeral Homes and Crematory Inc. is handling arrangements but no information is available at this time.