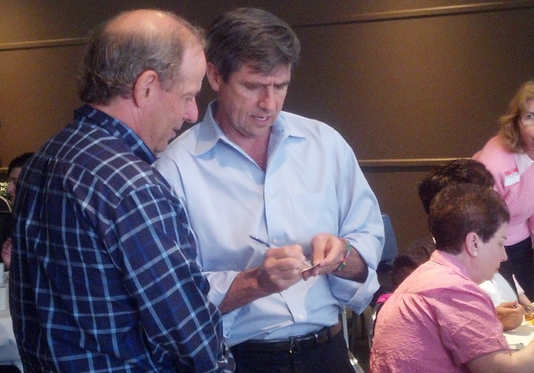 State College — Centre County has become a major growth area for PA Dems in recent history. A plethora of Pennsylvania gubernatorial candidates tried to capitalize on that growth Saturday morning at the Centre County Democrats annual spring breakfast.
Three of the five declared candidates, as well as a number of potential candidates and Lt. Governor hopefuls, worked the room on the first stop of a long day of county dinners in central Pennsylvania.
Candidates Allyson Schwartz, Tom Wolf and Max Myers — as well as potential contenders Mike Stack, Ed Pawlowski and Joe Sestak – mingled with the members of the Centre County Democrats, including Jay Paterno, and the Penn State College Democrats during an informal meet-and-greet. Mark Smith and Brad Koplinski, both candidates for lieutenant governor, also gave their pitches to the local democrats over eggs and bacon.
"Centre County is a county on the move," Koplinski said. "I want to be a great partner for one of the great governor candidates that we're going to have."
Candidates were allotted approximately five minutes to give their elevator pitch during the formal portion of the event (County Chairman Greg Stewart joked that he would allow them more time if they swiped their credit card for a Centre County Dems donation). Max Myers was the first candidate up, as he tried to emphasize his uniqueness as a minister and relative outsider.
"We are a Commonwealth," Myers said. "It's about time we start caring about each other."
Former Admiral and Congresman Joe Sestak was a last-minute, surprise addition to the event. Stewart said that Sestak reached out on Tuesday about attending the breakfast. On the heels of a monstrous $460K first quarter fundraising effort, the former U.S. Senate candidate gave one of his signature impassioned pitches and bolted the breakfast early on his way to another event.
"It's better to offend God than a politician because at least God gives us forgiveness," Sestak joked, before going into a personal story about the success of women in military combat. "Remember what we're supposed to stand for," he continued, quoting Winston Churchill. "Remember, sometimes, it's not enough to do your best, sometimes you just have to do what's required."
Sestak remained quiet about his future political goals, but it's not hard to speculate after a strong fundraising quarter and an impromptu stop in Centre County.
Allentown Mayor Ed Pawlowski didn't reveal anything specific about his future plans either but was quite vociferous in his criticism of Governor Corbett.
"We have had our public education system decimated in Pennsylvania – they have cut over a billion dollars from our schools," Pawlowski said. "I don't know where [Corbett] went to learn math, but it definitely was not in our great public schools."
State Senator Mike Stack of Philadelphia was equally as critical of Corbett's first-term performance.
"The current governor has never met an underdog that he didn't want to throw under the bus," Stack said. "And he's never met someone who is rich and powerful that he didn't' want to help out with a tax break or some kind of assistance."
Former state revenue secretary Tom Wolf veered away from the criticism and decided tried to tout his own accolades and experience, particularly with the Peace Corps.
"A lot of eyes are going to be on Pennsylvania next year," Wolf concluded. "This is a chance for Democrats to stand up and proudly proclaim not what we're not, but what we are."
All this led up to the finale with early frontrunner Congresswoman Allyson Schwartz. She was introduced as "one of the national leaders in congress" and delivered her standard dinner speech right on schedule.
"I refuse to stand by and I refuse to accept the stale politics and misguided priorities of Harrisburg," Schwartz said. "With your help and your commitment and your hard work, I am determined to be your next governor."
"We won't rest until we're done."
The politicos hurried out fairly quickly after the event to head out on a full day of campaigning, including a stop only an hour down the road at the annual Lycoming County Dems' Jackson Dinner in Williamsport, Pa. That was keynoted by state Treasurer Rob McCord. Overall, there were no real surprises but the morning served as an opportunity for the candidates to test the waters on what is sure to be a long year of campaigning leading up to the primary next May.