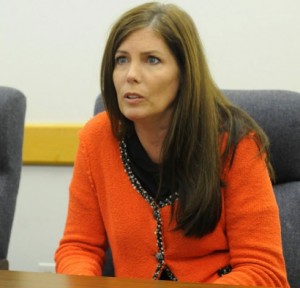 Pennsylvanians don't have a high opinion of Attorney General Kathleen Kane and many believe she should step down from office.
Those are the results of the latest Harper Poll.
They began by asking whether respondents have a favorable or unfavorable view of the AG. 52% have an unfavorable impression of Kane with 30% viewing her very unfavorably and 22% somewhat unfavorably.
Meanwhile, just 31% have a favorable opinion (10% very favorable, 21% somewhat favorable).
There is also a relatively small gender gap. Among women, Kane's numbers are 32/48 favorable/unfavorable. With men, they're 31/55.
Eighty percent of respondents are aware of the allegations against Kane and 69% of respondents say that information has worsened their views toward her.
Resignation?
Finally, Harper asked the question so many others are asking, should the Attorney General resign.
A plurality, 39%, said she should stay in office. Yet if you combine those who believe she should resign, 30%, with those who think she should resign if formally charged, 25%, you have a majority that favors an indicted Attorney General stepping down.
Intriguingly, Harper found that young people are more likely to favor Kane's resignation than older citizens.
The sample size for the survey is 503 likely voters in Pennsylvania and the margin of error is +/-4.37%. Responses were gathered through landline interviews conducted using Interactive Voice Response (IVR). The survey was conducted May 6-7, 2015 by Harper Polling.