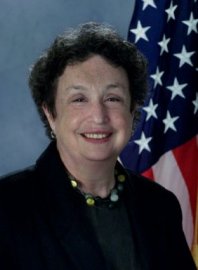 In April 2012, Brian Sims defeated long-time Representative Babette Josephs (D-Philadelphia) in the Democratic primary.
He won by just 235 votes, and with no general election opponent became the first openly gay representative elected in the state of Pennsylvania.
It was a bitter affair. Sims formerly worked on her campaigns. LGBT groups supported Sims despite the fact that Josephs was the most outspoken ally of the gay community in the House (the district includes Philly's Gayborhood).
According to several sources close to the House Democrats, Josephs is preparing for a rematch.
UPDATE: Babette confirmed to Philly Daily News' Chris Brennan that she is running.
Several Democratic sources said Josephs is receiving encouragement from some of her former colleagues.
In his ongoing efforts to build a statewide coalition in the House, Sims has been direct in his support for primary opponents to some of his colleagues. He endorsed Jared Solomon, who is running against Rep. Mark Cohen (D-Phila) and Billy Smith over Rep. Margo Davidson (D-Delaware).
In the 13th congressional district primary, Sims backed state Senator Daylin Leach (D-Montgomery) over his colleague, state Rep. Brendan Boyle (D-Phila).
Two Democrats close to the Philadelphia delegation said Josephs is being encouraged to run by Cohen, Davidson and Boyle. Boyle and Davidson dismissed the suggestion.
Boyle's campaign denies that there has been any recruiting or involvement in the race.
"Margo is focused on her district and her voters," Davidson's campaign manager Shannon Marietta told PoliticsPA. "Instead of focusing on insider gossip, we are focused on the issues of her district – like raising the minimum wage, new job growth and fighting for the underprivileged."
Cohen declined to comment.
One Philadelphia Democratic operative said Sims' political maneuvers had opened the door for a challenge.
"It's very unusual for one incumbent to pick fights with so many of their colleagues," he said. "I don't know if [Boyle, Cohen and Davidson] are involved with Babette's decision, but I can't say I'd blame them if they were."