The political arm of the American Hospital Association is spending $184,000 to tell 6th district residents just how great a guy Rep. Jim Gerlach (R-Chester) is for opposing Obamacare.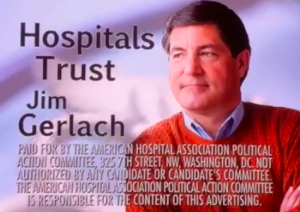 "Wanna know why hospitals trust Congressman Jim Gerlach?" a narrator asks. "It's because Jim Gerlach supports sensible solutions to our health care crisis."
"Gerlach supports more competition, and that makes health care more affordable: good news for your family."
The buy is an independent expenditure, meaning that it was not coordinated with Gerlach's campaign.
Gerlach faces physician Manan Trivedi of Berks County. Trivedi lists among Democrats' list of "Red to Blue" candidates, top challengers from around the country, and has said he supports Obamacare.
"In consultation with our hospital members, we work to be supportive of those legislators who share our perspectives on key issues and have provided leadership in addressing how we can improve our health care system," said Marie Watteau, the Director of Media Relations for the American Hospital Association.
She declined to go into further detail regarding the group's decision to back Gerlach, one of 7 races the group is involved with at present.
Based on the content of the ad, it appears to be based on the Affordable Care Act, aka Obamacare. The announcer says, "Gerlach has protected Medicare payments to hospitals so seniors get the care they need." The ad doesn't include citations, but that's likely a reference to Obamacare's changes to Medicare. Most of the $716 billion in cuts to the program come from  providers rather than beneficiaries by lowering Medicare reimbursement rates.
The ad also lauds Gerlach for supporting health insurance that is portable across state lines.
Trivedi's campaign says that the ad buy is an example of hospital executives looking after their bottom lines.
"Well it is certainly clear that if the health care lobbyists want to protect their profit scheme, they are betting on Congressman Gerlach being in Washington to do their bidding," said Trivedi spokesman, Daren Berringer.
He criticized Gerlach over his voters for the House GOP budget, which critics argue will yiel higher out-of-pocket medical costs for seniors.
"And now Congressman Gerlach wants seniors to pay $6,400 a year in out-of-pocket health care expenses so his corporate pals can add even more to their billion dollar industry."
Supporters of the GOP budget say that the plan won't affect those 55 or older, and that reforms are needed to protect Medicare from bankruptcy.
Gerlach campaign Senior Adviser Vince Galko said the buy shows that Gerlach is in touch with the medical community, and Trivedi is not.
"We appreciate any support from those who wish to see Jim Gerlach reelected. Clearly, the Congressman has a commonsense record of working to bring down health care costs and preserving quality of care," Galko said.
"These same health care experts know Manan Trivedi's radical ideas far beyond ObamaCare will make it harder to see a doctor, increase health care costs and put the government fully in charge of health care. Perhaps that's why Trivedi's own colleagues reject his candidacy, but the extreme fringes of the Democrat Party like MoveOn have embraced him with open arms."
The AHAPAC also declined a request to release the ad to PoliticsPA; the above copy was taken by a Democratic operative from WFMZ.
$184,000 may not sound like much in the expensive Philadelphia media market, but the news comes just a day after the National Republican Congressional Committee yanked ad dollars out of the market, anticipating that incumbents in the area – including Gerlach – are safe.
The committee will be on the air for the final two weeks of the election, but the move leaves the AHAPAC's pro-Gerlach effort as the largest outside expenditure in suburban Pa. congressional races.